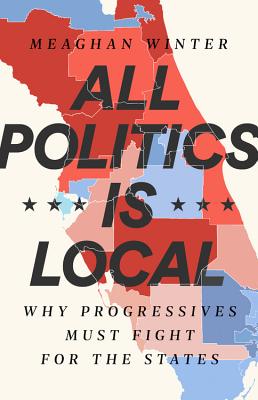 All Politics Is Local
Why Progressives Must Fight for the States
Hardcover

* Individual store prices may vary.
Other Editions of This Title:
Digital Audiobook (9/30/2019)
Compact Disc (10/1/2019)
Description
Democrats have largely ceded control of state governments to the GOP, allowing them to rig our political system and undermine democracy itself.
After the 2016 election, Republicans had their largest majority in the states since 1928, controlling legislative chambers in thirty-two states and governor offices in thirty-three. They also held both chambers of Congress and the presidency despite losing the popular vote. What happened?
Meaghan Winter shows how the Democratic Party and left-leaning political establishment have spent the past several decades betting it all on the very risky and increasingly foolhardy strategy of abandoning the states to focus on federal races.
For the American public, the fallout has been catastrophic. At the behest of their corporate patrons, Republican lawmakers have diminished employee protections and healthcare access and thwarted action on climate change. Voting rights are being dismantled, and even the mildest gun safety measures are being blocked.
Taking us to three key battlegrounds--in Missouri, Florida, and Colorado--Winter reveals that robust state and local politics are the lifeblood of democracy and the only lasting building block of political power.
Praise For All Politics Is Local: Why Progressives Must Fight for the States…
"In this rousing debut...Winter's account is well-reported and reasonable...With its emphasis on the power of long-term organization and incremental change, this book will speak deeply to aspiring activists."—Publishers Weekly

"A timely, urgent call for political engagement."—Kirkus Reviews

"The fight for control of state governments is the biggest sleeper issue in American politics right now and that story is told brilliantly in Meaghan Winter's new book. From extreme abortion bans to undermining gun control to gutting unions, Winter compellingly shows how democracy is being subverted in the states, and how Democrats and progressives can fight back."—Ari Berman, senior reporter at Mother Jones and author of Give Us the Ballot

"Winter shows through deeply researched storytelling how progressives can win and keep winning: start with issues that matter in people's everyday lives, build infrastructure that can win on the local level, and grow our power from the ground up-not from DC down."—Sara Nelson, president of the Association of Flight Attendants-CWA, AFL-CIO

"Why do Democrats--the party of prosperity--keep losing to [Republicans]? Can this be changed? How much does it matter? Meaghan Winter's All Politics Is Local: Why Progressives Must Fight for the States looks into these questions with remarkable clarity and tenacity."—New York Review of Books
Bold Type Books, 9781568588384, 304pp.
Publication Date: October 1, 2019
About the Author
Meaghan Winter has written for many publications, including New York Magazine, Bloomberg Businessweek, Cosmopolitan, Essence, the Believer, Slate, and The Best Magazine Writing. She lives in New York City.
or
Not Currently Available for Direct Purchase