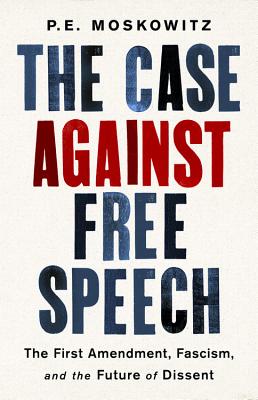 The Case Against Free Speech
The First Amendment, Fascism, and the Future of Dissent
Hardcover

* Individual store prices may vary.
Other Editions of This Title:
Digital Audiobook (8/12/2019)
Compact Disc (8/13/2019)
Compact Disc (8/13/2019)
Description
A hard-hitting expose that shines a light on the powerful conservative forces that have waged a multi-decade battle to hijack the meaning of free speech--and how we can reclaim it.
There's a critical debate taking place over one of our most treasured rights: free speech. We argue about whether it's at risk, whether college students fear it, whether neo-Nazis deserve it, and whether the government is adequately upholding it.
But as P. E. Moskowitz provocatively shows in
The Case Against Free Speech
, the term has been defined and redefined to suit those in power, and in recent years, it has been captured by the Right to push their agenda. What's more, our investment in the First Amendment obscures an uncomfortable truth: free speech is impossible in an unequal society where a few corporations and the ultra-wealthy bankroll political movements, millions of voters are disenfranchised, and our government routinely silences critics of racism and capitalism.
Weaving together history and reporting from Charlottesville, Skokie, Standing Rock, and the college campuses where student protests made national headlines, Moskowitz argues that these flash points reveal more about the state of our democracy than they do about who is allowed to say what.
Our current definition of free speech replicates power while dissuading dissent, but a new ideal is emerging. In this forcefully argued, necessary corrective, Moskowitz makes the case for speech as a tool--for exposing the truth, demanding equality, and fighting for all our civil liberties.
Praise For The Case Against Free Speech: The First Amendment, Fascism, and the Future of Dissent…
"In The Case Against Free Speech P. E. Moskowitz offers a radical and necessary intervention. Exposing liberal myths with intellectual acuity, anti-fascist commitment, and dedicated reporting, Moskowitz demands we address what current free speech discourse ignores: power. I'm delighted that this book exists."
—
Natasha Lennard
,
author of Being Numerous
"Moskowitz's provocative and deeply insightful exploration of free speech politics exposes the current controversy over free speech as a manufactured crisis that obscures deeper fault lines in our democracy. Despite its title,
The Case Against Free Speech
is less an indictment of speech than a call to reimagine freedom."—
Laura Weinrib
,
author of The Taming of Free Speech: America's Civil Liberties Compromise and law professor at the University of Chicago
"When Moskowitz arrived in Charlottesville, they were expecting a free speech rally, but by the end of the day Heather Heyer lay dead, run down by a neo-Nazi. This was never simply about speech, and if we have learned anything, it's that white supremacy and fascism are not ideas to be debated but movements to be destroyed. Moskowitz surgically dissects America's free speech fetish, drawing speech into conversation with action and violence-not as
ideas
but as material realities.
The Case Against Free Speech
is
the
book we need for 2019 and beyond."—
George Ciccariello-Maher
,
author of Building the Commune
"In this incisive treatise, journalist Moskowitz (How to Kill a City) argues that the concept of free speech has been distorted as a cover for maintaining existing systems of power... The analysis here is keen, complex, and well-organized."
—
Publishers Weekly
"A provocation for First Amendment absolutists, who may be surprised at all the hidden constraints that bind free expression."
—
Kirkus Reviews
"Moskowitz has posed a pretty vital question: How can you speak freely when you don't know what you're talking about in the first place?"
—
The New Republic
Bold Type Books, 9781568588643, 272pp.
Publication Date: August 13, 2019
About the Author
P. E. Moskowitz is the author of How to Kill a City. A former staff writer for Al Jazeera America, they have written for publications including the Guardian, New York Times, NewYorker.com, New Republic, Wired, Slate, Buzzfeed, Splinter, and Vice. A graduate of Hampshire College and the CUNY Graduate School of Journalism, they live in New Orleans.