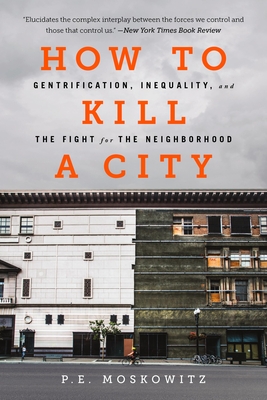 How to Kill a City (Paperback)
Gentrification, Inequality, and the Fight for the Neighborhood
Bold Type Books, 9781568589039, 288pp.
Publication Date: September 4, 2018
Other Editions of This Title:
Compact Disc (12/5/2017)
Hardcover (3/7/2017)
MP3 CD (12/5/2017)
Paperback, Chinese (8/23/2018)
* Individual store prices may vary.
Description
A journey to the front lines of the battle for the future of American cities, uncovering the massive, systemic forces behind gentrification--and the lives that are altered in the process.
The term gentrification has become a buzzword to describe the changes in urban neighborhoods across the country, but we don't realize just how threatening it is. It means more than the arrival of trendy shops, much-maligned hipsters, and expensive lattes. The very future of American cities as vibrant, equitable spaces hangs in the balance.

Peter Moskowitz's How to Kill a City takes readers from the kitchen tables of hurting families who can no longer afford their homes to the corporate boardrooms and political backrooms where destructive housing policies are devised. Along the way, Moskowitz uncovers the massive, systemic forces behind gentrification in New Orleans, Detroit, San Francisco, and New York. The deceptively simple question of who can and cannot afford to pay the rent goes to the heart of America's crises of race and inequality. In the fight for economic opportunity and racial justice, nothing could be more important than housing.

A vigorous, hard-hitting expose, How to Kill a City reveals who holds power in our cities-and how we can get it back


About the Author
Peter Moskowitz is a freelance journalist who has covered a wide variety of issues, from environmental disasters to the vestiges of racist urban planning. A former staff writer for Al Jazeera America, they have written for the Guardian, New York Times, NewYorker.com, New Republic, Wired, Slate, Buzzfeed, Splinter, VICE, and many others. They are a graduate of Hampshire College and the CUNY Graduate School of Journalism. Moskowitz's next book will be about free speech and fascism. They live in Philadelphia.
Praise For How to Kill a City: Gentrification, Inequality, and the Fight for the Neighborhood…
"[An] exacting look at gentrification in New Orleans, Detroit, San Francisco and New York, exposing how large institutions-goverments, businesses, foundations-influence street-level processes that might appear as organic as the coffee shop's dark roast. ... How to Kill a City elucidates the complex interplay between the forces we control and those that control us."—New York Times Book Review

"Moskowitz is a talented and impassioned writer...[H]e pokes, prods and listens. He finds holes in official stories and gifted storytellers among people who have been steamrolled."—San Francisco Chronicle

"Movingly conveys [gentrification's] emotional and sometimes tragic toll as he highlights its stark racial realities in Detroit, San Francisco, New York and New Orleans."—Washington Post

"Gentrification takes a community's personal tragedy, loss and destruction, and monetizes it. Understanding how this happens, and how individuals may unwittingly find themselves a part of it is what makes Moskowitz's book so important. It isn't a lesson about what happened, it's a warning about what is happening now."— Truthout

"How to Kill a City is a convincing and persuasive argument that the U.S. has a serious problem with affordable housing that is not going away any time soon."—Booklist

"Moskowitz...pulls no punches in his depiction of gentrification...He paints a vivid and grim picture of the future of American cities."—Kirkus

"A fascinating analysis of late-stage gentrification in which corporate control of cities renders them uninhabitable to most people. Showing how gentrifiers exploit 'someone else's loss' as a consequence of long histories of racist policy, Peter Moskowitz calls for a global movement against this 'new form of segregation,' defining housing as a human right rooted in community instead of real estate profit."—Sarah Schulman, author of Gentrification of the Mind and The Cosmopolitans


"Peter Moskowitz offers a smartly written and fiercely logical indictment of city governments for selling out longtime residents to aggressive developers and rich investors, and calling it growth. This book is a wake-up call to communities to say no to state-sponsored gentrification and join together to resist their own demise."—Sharon Zukin, author of Naked City: The Death and Life of Authentic Urban Places

"A forceful critique of gentrification and its impact on disempowered members of American society."—Library Journal


"When it comes to housing and urban development, as with other aspects of American life, Moskowitz makes clear that the heft of one's purse and the color of one's skin are determinative. How to Kill a City is an indictment of a system that places making a home for capital above making homes for people."—Santa Barbara Independent