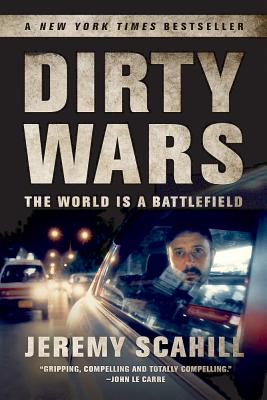 Dirty Wars
The World Is a Battlefield
Paperback

* Individual store prices may vary.
Other Editions of This Title:
Digital Audiobook (4/22/2013)
Hardcover (4/23/2013)
Compact Disc (4/23/2013)
Compact Disc (4/23/2013)
MP3 CD (4/23/2013)
Description
A New York Times bestseller
Now also an Oscar-nominated documentary

In Dirty Wars, Jeremy Scahill, author of the New York Times bestseller Blackwater, takes us inside America's new covert wars. The foot soldiers in these battles operate globally and inside the United States with orders from the White House to do whatever is necessary to hunt down, capture or kill individuals designated by the president as enemies.

Drawn from the ranks of the Navy SEALs, Delta Force, former Blackwater and other private security contractors, the CIA's Special Activities Division and the Joint Special Operations Command ( JSOC), these elite soldiers operate worldwide, with thousands of secret commandos working in more than one hundred countries. Funded through "black budgets," Special Operations Forces conduct missions in denied areas, engage in targeted killings, snatch and grab individuals and direct drone, AC-130 and cruise missile strikes. While the Bush administration deployed these ghost militias, President Barack Obama has expanded their operations and given them new scope and legitimacy.

Dirty Wars follows the consequences of the declaration that "the world is a battlefield," as Scahill uncovers the most important foreign policy story of our time. From Afghanistan to Yemen, Somalia and beyond, Scahill reports from the frontlines in this high-stakes investigation and explores the depths of America's global killing machine. He goes beneath the surface of these covert wars, conducted in the shadows, outside the range of the press, without effective congressional oversight or public debate. And, based on unprecedented access, Scahill tells the chilling story of an American citizen marked for assassination by his own government.

As US leaders draw the country deeper into conflicts across the globe, setting the world stage for enormous destabilization and blowback, Americans are not only at greater risk -- we are changing as a nation. Scahill unmasks the shadow warriors who prosecute these secret wars and puts a human face on the casualties of unaccountable violence that is now official policy: victims of night raids, secret prisons, cruise missile attacks and drone strikes, and whole classes of people branded as "suspected militants." Through his brave reporting, Scahill exposes the true nature of the dirty wars the United States government struggles to keep hidden.
Praise For Dirty Wars: The World Is a Battlefield…
"Dirty Wars is the most thorough and authoritative history I've read yet of the causes and consequences of America's post 9/11 conflation of war and national security. I know of no other journalist who could have written it: For over a decade, Scahill has visited the war zones, overt and covert; interviewed the soldiers, spooks, jihadists, and victims; and seen with his own eyes the fruits of America's bipartisan war fever. He risked his life many times over to write this book, and the result is a masterpiece of insight, journalism, and true patriotism."
Barry Eisler, novelist and former operative in the CIA's Directorate of Operations

"There is no journalist in America who has exposed the truth about US government militarism more bravely, more relentlessly and more valuably than Jeremy Scahill. Dirty Wars is highly gripping and dramatic, and of unparalleled importance in understanding the destruction being sown in our name."
Glenn Greenwald, New York Times best-selling author and Guardian columnist

"A surefire hit for fans of Blackwater and studded with intriguing, occasionally damning material."
Kirkus Reviews

"Dirty Wars will earn its place in history as one of the most important pieces of literature related to over a decade of failed American foreign policy strategy that continues to exist to this day. It's also one of the most grounded and thoroughly researched books I've read on the subject of covert U.S. operations in the 21st Century. A must read for anyone that cares about this country and the direction we are heading."
Brandon Webb, retired member of Navy SEAL Team Three, former lead sniper instructor at the US Naval Special Warfare Command and author of the New York Times bestseller The Red Circle

"Dirty Wars is not politically correct. It is not a history of the last decade as seen from inside the White House, or from the pages of the New York Times and Washington Post. Scahill's book takes us inside Dick Cheney's famed "dark side" and tells us, with convincing detail and much new information, what has been done in the name of America since 9/11."
Seymour Hersh, Pulitzer Prize winning journalist

"[One] of the best intelligence reporters on the planet...Scahill has covered the worldwide wanderings of JSOC task forces and their intersection for years, and he takes a deeper look at their expanded post 9/11 mission set. He has incredible sources..."
Marc Ambinder, editor-at-large of The Week

"There is no journalist in America, in the world, who has reported on what the war on terror actually looks like under the Obama administration better than [Scahill]. This book is an unbelievable accomplishment. [W]hatever your politics, you should read this book. It is incredibly carefully reported. People who come to this book expecting a polemic, I think will be surprised to a find a book that really...lets the facts speak for themselves. What this book does is show a side of our unending wars that we haven't seen... I think every member of Congress should read this book."
Chris Hayes, host of MSNBC's All In with Chris Hayes

"[A] courageous and exhaustive examination of the way a number of clandestine campaigns-full of crimes, coverups, and assassinations-became the United States's main strategy for combating terrorism. It's about drones, but also, more profoundly, about what our government does on our behalf, without our consent, and arguably to our disadvantage."
Teju Cole, The New Yorker's 'Best Books of 2013'

"[A] fantastic piece of investigative reporting..."
Noam Chomsky

"Dirty Wars shows you why geography shouldn't join penmanship on the list of obsolete American school disciplines before you even read a single page - in the maps at the front of the book: the Middle East, Afghanistan and Pakistan, the Horn of Africa, Yemen, Mogadishu, Somalia - every one an American theater of war, no matter how few Americans realize it. For the next 500 pages, Scahill demonstrates how what we don't know can hurt us - and hurt lots of other people we don't know."
Los Angeles Review of Books
Bold Type Books, 9781568589541, 680pp.
Publication Date: September 30, 2014
About the Author
Jeremy Scahill is an investigative reporter, war correspondent, and author of the international bestsellers Blackwater: The Rise of the World's Most Powerful Mercenary Army and Dirty Wars: The World is a Battlefield. He has reported from Afghanistan, Iraq, Somalia, Yemen, Nigeria, the former Yugoslavia, and elsewhere across the globe. He is a co-founder of The Intercept and has served as the National Security Correspondent for the Nation magazine and Democracy Now! Scahill is a Puffin Foundation Writing Fellow at The Nation Institute and was twice awarded the prestigious George Polk Award. He is a producer and writer of the award-winning film Dirty Wars, which premiered at the 2013 Sundance Film Festival and was nominated for an Academy Award.
or
Not Currently Available for Direct Purchase