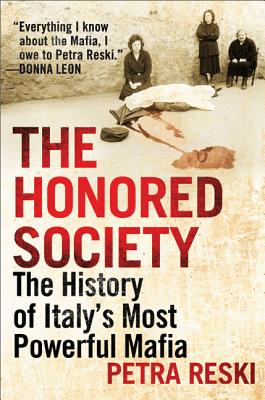 The Honored Society
A Portrait of Italy's Most Powerful Mafia
Paperback

* Individual store prices may vary.
Other Editions of This Title:
Paperback, Large Print (10/28/2014)
Description
In the early hours of an August 2007 morning a gunfight broke out in an Italian restaurant in Duisburg, Germany; in less than five minutes over seventy shots were fired into the bodies of six men. Both the victims and the assassins were members of the 'Ndrangheta crime organization. Calabria's Mafia had brazenly shown its savage influence outside Italy for the first time.

In The Honored Society award-winning investigative reporter Petra Reski reveals the Mafia menace lurking throughout the world-- from espresso bars in Palermo to European halls of parliament to the corporate headquarters of enormous agricultural firms. In haunting and exquisite prose she explores the Byzantine structure of the 'Ndrangheta, Cosa Nostra and other mafia clans throughout Italy -- the code they live by, the destruction they wreak, how they operate within the country and how they operate internationally. She shows how these syndicates dominate everything from nuclear waste disposal to hotel chains to the marijuana trade in Australia and cocaine trafficked throughout the world. Reski shows how figures such as Silvio Berlusconi were made by the Mafia, and how those who dared to defy its codes were broken. A searing portrait of the criminals who have come to control not only Italy but vast swathes of the globe, The Honored Society is a journalistic tour de force.
Bold Type Books, 9781568589732, 304pp.
Publication Date: January 8, 2013
About the Author
An award-winning investigative journalist, Petra Reski writes regularly for publications like GEO, DIE ZEIT, Merian and Brigitte, as well as for radio. She is the author of several books on the Mafia. Born in Kamen, Germany, she has lived in Italy since 1989.