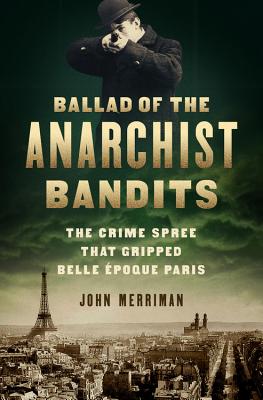 Ballad of the Anarchist Bandits (Hardcover)
The Crime Spree that Gripped Belle Epoque Paris
Nation Books, 9781568589886, 336pp.
Publication Date: October 3, 2017
* Individual store prices may vary.
Description
The thrilling story of the Bonnot Gang, a band of anarchist bank robbers whose crimes terrorized Belle Époque Paris, and whose escapades reflected the fast-paced, dizzyingly modern, and increasingly violent period on the eve of World War I.
For six terrifying months in 1911-1912, the citizens of Paris were gripped by a violent crime streak. A group of bandits went on a rampage throughout the city and its suburbs, robbing banks and wealthy Parisians, killing anyone who got in their way, and always managing to stay one step ahead of the police. But Jules Bonnot and the Bonnot Gang weren't just ordinary criminals; they were anarchists, motivated by the rampant inequality and poverty in Paris.
John Merriman tells this story through the eyes of two young, idealistic lovers: Victor Kibaltchiche (later the famed Russian revolutionary and writer Victor Serge) and Rirette Maîtrejean, who chronicled the Bonnot crime spree in the radical newspaper L'Anarchie. While wealthy Parisians frequented restaurants on the Champs-Élysées, attended performances at the magnificent new opera house, and enjoyed the decadence of the so-called Belle Époque, Victor, Rirette, and their friends occupied a vast sprawl of dank apartments, bleak canals, and smoky factories. Victor and Rirette rejected the violence of Bonnot and his cronies, but to the police it made no difference. Victor was imprisoned for years for his anarchist beliefs, Bonnot was hunted down and shot dead, and his fellow bandits were sentenced to death by guillotine or lifelong imprisonment.
Fast-paced and gripping, Ballad of the Anarchist Bandits is a tale of idealists and lost causes--and a vivid evocation of Paris in the dizzying years before the horrors of World War I were unleashed.
About the Author
John Merriman is the Charles Seymour Professor of History at Yale University and the author of several books, including Massacre: The Life and Death of the Paris Commune, The Dynamite Club: How a Bombing in Fin-de-Siecle Paris Ignited the Age of Modern Terror, and the classic History of Modern Europe. He is the recipient of Yale's Byrnes/Sewell Teaching Prize, a French Docteur Honoris Causa, and speaks frequently at universities across the United States, United Kingdom, France, and Australia.
Praise For Ballad of the Anarchist Bandits: The Crime Spree that Gripped Belle Epoque Paris…
"Merriman's fresh look at the Bonnot gang, whose violent crime spree riveted and terrified Belle Époque Parisians, emphasizes the unforgiving socioeconomic inequalities of the era and the allure of anarchism to the desperate....The result is a lively, erudite work that, without romanticizing the Bonnot gang's crimes, manages to humanize those in their milieu, and perhaps suggest lessons for the present."—Booklist, starred review

"Merriman uncovers the dark side of the famed belle époque, offering a fresh perspective on the reality of life for much of the city's population.... [A] revelatory history...of the dire consequences of inequality and injustice."—Kirkus Reviews

"I found this book fascinating: a Bonnie and Clyde story set in the heady Paris of a century ago, a Paris etched by Merriman with erudition, a fine eye for lively detail, and a lightness of touch. It also fills in, in a way we have not had before, an important tragic early episode in the life of the man who later became one of the 20th century's great eyewitnesses to tyranny, Victor Serge."—Adam Hochschild, author of Spain in Our Hearts

"Once again, John Merriman has written a gripping tale about fin-de-siècle Paris. By tracing the slowly merging destinies of the Bonnot Gang, a group of anarchist-inspired criminals, and Victor Kibaltchiche and Rirette Maîtrejean, an anarchist couple who refused violence, Merriman has written an absorbing tragedy that also plumbs the history of radical politics in France."—Robert D. Zaretsky, author of A Life Worth Living: Albert Camus and the Quest for Meaning and Boswell's Enlightenment

"No one knows the rebellious underworlds of fin-de-siècle France as well as John Merriman, and no one can write about them as vividly. Ballad of the Anarchist Bandits is a beautifully told story, by turns comic, tragic, hopeful, despairing, and intensely human."—David A. Bell, author of Shadows of Revolution: Reflections on France, Past and Present

"In Ballad of the Anarchist Bandits John Merriman spins a true crime story full of intrigue, passion, and political significance. He paints an unflinching picture of a society torn apart by inequality and of the people who took desperate measures to try to remedy it. A compelling perspective that is richly resonant today."—Maya Jasanoff, author of Liberty's Exiles: American Loyalists in the Revolutionary War

"The author's Parisian scholarship shines as he builds a vivid and
meticulously detailed image of the period, creating the foundation for a
multi-layered and three-dimensional story of what happens when oppressed people
are pushed to their limits. Merriman's especially timely work gives us a robust
understanding of the revolutionary thought process, encouraging us to question
what lies beneath society's shining surface."—Library Journal

"Electrifying.... In addition to his vivid portrayals of the
principal characters and events, the author provides informative context to the
crimes, outlining the severe exploitation of workers in this supposedly idyllic
time in Parisian history. This is a nuanced and fascinating dissection of the
events by a riveting storyteller with a sympathetic (but unsentimental) view of
the anarchists' cause."—Publishers Weekly

"John
Merriman's Ballad of the Anarchist Bandits tells another story of the
Belle Époque-not the romance of the 'Ville Lumiére' with its dazzling palaces
and grand hotels but the dark tale of a city in the grip of a crime
wave...Merriman's subject is the rise and fall of the Bonnot Gang, but he
shrewdly wraps his historical analysis in the arms of a love story."—Marilyn Stasio, The New York Times Book Review

"France's long
history of antiterrorist legislation is given a timely appraisal in Ballad of
the Anarchist Bandits, a riveting history of the Bonnot Gang, the brutal band
of murdering anarchists who rattled the City of Light in the early 20th
century....a vivid recounting. [Merriman's] eye for detail is particularly
acute."—Tobias Grey, The Wall Street Journal

Ballad of the Anarchist Bandits reads like a novel....
engaging and suspenseful, and the moral underlying in the story, wealth
inequality, rings true today.... a must-read for fans of history and true crime
alike. It grips the reader and pulls you into a tale so wonderful you almost
can't believe it's true.—Dan Arel, HuffPost

"Author John Merriman
delivers a ripping good yarn with a lineup of compelling characters .... [the
book] leaves the reader with some timely questions about where a country should
set the balance between security and civil rights for people with unpopular
views."—Minneapolis Star Tribune

"Thorough and
sweeping... Merriman's book addresses larger questions about anarchist ideologies
and the forces of order in Belle Époque society.... He manages, through
imagistic detail and pacing, to build suspense even when the historical outcome
is known.... We know we are in expert hands."—H-France Review