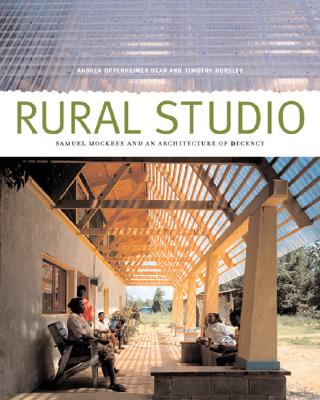 Rural Studio (Paperback)
Samuel Mockbee and an Architecture of Decency
Princeton Architectural Press, 9781568982922, 192pp.
Publication Date: January 1, 2002
* Individual store prices may vary.
Description
For almost ten years, Samuel Mockbee, a recent MacArthur Grant recipient, and his architecture students at Auburn University have been designing and building striking houses and community buildings for impoverished residents of Alabama's Hale County. Using salvaged lumber and bricks, discarded tires, hay and waste cardboard bales, concrete rubble, colored bottles, and old license plates, they create inexpensive buildings that bear the trademark of Mockbee's work, which he describes as "contemporary modernism grounded in Southern culture."In a time of unexampled prosperity, when architectural attention focuses on big, glossy urban projects, the Rural Studio provides an alternative of substance. In addition to being a social welfare venture, the Rural Studio--"Taliesin South" as Mockbee calls it--is also an educational experiment and a prod to the architectural profession to act on its best instincts. In giving students hands-on experience in designing and building something real, it extends their education beyond paper architecture. And in scavenging and reusing a variety of unusual materials, it is a model of sustainable architecture. The work of Rural Studio has struck such a chord-both architecturally and socially--that it has been featured on Oprah, Nightline, and CBS News, as well as in Time and People magazines.The Studio has completed more than a dozen projects, including the Bryant "Hay Bale" House, Harris "Butterfly" House, Yancey Chapel, Akron Chapel, Children's Center, H.E.R.O. Playground, Lewis House, Super Sheds and Pods, Spencer House addition, Farmer's Market, Mason's Bend Community Center, Goat House, and Shannon-Dutley House. These buildings, along with the incredible story of the Rural Studio, the people who live there, and Mockbee and his student architects, are detailed in this colorful book, the first on the subject."I tell my students, it's got to be warm, dry, and noble"--Samuel Mockbee
About the Author
Andrea Oppenheimer Dean is former Executive Editor of Architecture Magazine and a published author. She lives in Washington, D.C.

Timothy Hursley is an architectural photographer who regularly contributes to the international press. He lives in Little Rock, AR.
Praise For Rural Studio: Samuel Mockbee and an Architecture of Decency…
Hale County, Alabama, is one of the least likely places on earth to find great architecture. Poor, black, and mostly ignored since Walker Evans and James Agee brought it to world attention in 1939 in
Let Us Now Praise Famous Men
, Hale is "a left-behind place," explain Andrea Oppenheimer Dean and Timothy Hursley in the introduction to their remarkable book. But the hardscrabble land and its proud residents "seduced" Samuel Mockbee and has inspired the Auburn University students who operate out of the Rural Studio that Mockbee established there. The result is a legacy of extraordinary buildings - small in scale, miniscule in budget, but great in spirit and design.
Mockbee, who died at the end of last year, had strong convictions about the role of architects in our society and the need to teach students how to serve their communities. A big man who knew how to have a good time, Mockbee anchored his work and his teaching in a fierce sense of place. You can't understand his architecture without knowing about the land and the people for whom it was created.
This book reflects those ideas. A graceful introduction explains Mockbee, his motivations and his methods, then gives way to a series of chapters rooted in the places - Mason's Bend, Newbern, Sawyerville, Greensboro, Thomaston, and Akron - where the Rural Studio has built. Dean who is a contributing editor of Record, typically begins her descriptions of projects with the people who live in or use them, just the way Mockbee and his students began each project. Photographs show the untidy belongings and loving touches residents have added to their houses. Beat-up bicycles, embroidered tablecloths, and plastic furniture feel perfect in here.
The book also includes a short section of "Interviews with Students, a Teacher, and a Client," an essay by Lawrence Chua on "The Rural Mythology of Samuel Mockbee," and an essay by the photographer Cervin Robinson on the different approaches photographers from Evans to Hursley have taken in capturing the character of Hale County. Like Mockbee himself, this book impresses with its clear-eyed view of real life and its sense of conviction. -Architectural Record