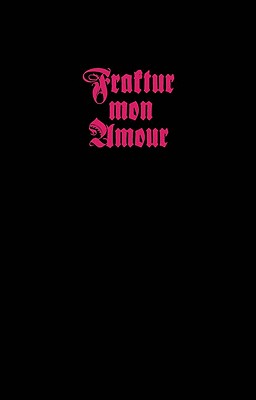 Fraktur Mon Amour
Hardcover

* Individual store prices may vary.
Description
When was the last time a book on typography made you swoon? Just wait until you feast your eyes on Fraktur MonAmour, Berlin-based graphic designer Judith Schalansky's love letter to Blackletter fonts. Blackletter, also known asFraktur or Gothic type, was commonly used throughout Europe in the Middle Ages. By the end of the Renaissance it had mostly been replaced by the typeface Latin Antiqua. The use of Blackletter type became taboo in Germany after World War II because it was incorrectly associated with the Nazis, who actually banned its use in 1941 because it was falsely believed to be a Jewish invention. Revelations about the true history and meaning of Blackletter type have resultedin a resurgence in usage by graphic designers. Companies such as Nike, Reebok, and Coca-Cola now use Fraktur intheir advertising. It decorates posters, album covers, and even skin in the form of tattoos. But a comprehensive collectionof the most beautiful classic faces, as well as the best new variations, has been missing until now.

Fraktur Mon Amour reproduces 300 variations of Blackletter fonts, ranging from historical fonts to contemporary reinventions, in a sensuous, beautifully crafted, hot-pink prayer book-style catalog that is destined to become a fetish object for designers and type enthusiasts. Each Blackletter font is presented on a full page along with its complete alphabet, date of origin, the name of its designer, and its original foundry. On the facing page is a composition created fromthat font that explores the subversive beauty of this unique typeface. In addition, 137 of these fonts—including fourcreated exclusively for this book—are collected on an enclosed CD (Mac and PC) for free private and restricted commercial use. Fraktur Mon Amour is the winner of several awards, including the Type Directors Club of New York's 2007 Award for Typographic Excellence.
Princeton Architectural Press, 9781568988016, 648pp.
Publication Date: October 3, 2008
About the Author
Judith Schalansky is a graphic designer based in Berlin.
or
Not Currently Available for Direct Purchase