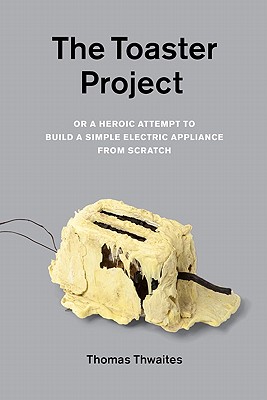 The Toaster Project
Or a Heroic Attempt to Build a Simple Electric Appliance from Scratch
Paperback

* Individual store prices may vary.
Description
Where do our things really come from? China is the most common answer, but Thomas Thwaites decided he wanted to know more. In The Toaster Project, Thwaites asks what lies behind the smooth buttons on a mobile phone or the cushioned soles of running sneakers. What is involved in extracting and processing materials? To answer these questions, Thwaites set out to construct, from scratch, one of the most commonplace appliances in our kitchens today: a toaster. The Toaster Project takes the reader on Thwaites s journey from dismantling the cheapest toaster he can find in London to researching how to smelt metal in a fifteenth-century treatise. His incisive restrictions all parts of the toaster must be made from scratch and Thwaites had to make the toaster himself made his task difficult, but not impossible. It took nine months and cost 250 times more than the toaster he bought at the store. In the end, Thwaites reveals the true ingredients in the products we use every day. Most interesting is not the final creation but the lesson learned. The Toaster Project helps us reflect on the costs and perils of our cheap consumer culture and the ridiculousness of churning out millions of toasters and other products at the expense of the environment. If products were designed more efficiently, with fewer parts that are easier to recycle, we would end up with objects that last longer and we would generate less waste altogether. Foreword by David Crowley, head of critical writing at the Royal College of Art and curator at the Victoria and Albert Museum.

Follow Thomas Thwaites in his newest book GoatMan.
Praise For The Toaster Project: Or a Heroic Attempt to Build a Simple Electric Appliance from Scratch…
"I particularly admired his can-do attitude and loved his heroic ignorance-is-bliss abuse of a microwave oven." - ElectronicsWeekly.com

"It's fun, and you'll get a little smarter, and maybe you'll appreciate our ancestors and their smarts a little more." -- Science 2.0

"At once a charming manifesto for the maker movement and a poetic reflection on consumerism's downfall, The Toaster Project is a story of reacquainting ourselves with the origins of our stuff, part Moby-Duck, part The Story of Stuff, part something else made entirely from scratch." -- Brain Pickings

"Incredibly entertaining and well-written." -- International Sculpture Center blog

"The Toaster Project raises fascinating questions.... Thwaites's eagerness to learn and his determination to see the project through--not to mention the author's engaging writing and the novelty of the project--makes this book a winner." -- Make online

"Easily my favorite book this year, The Toaster Project should be required reading for artists, designers, consumers and anyone who has ever bought or thrown away a toaster. Thomas Thwaites, a graduate student at London's Royal College of Art, sets out to build a toaster from scratch -- not just an object that toasts bread, but one that aesthetically and mechanically replicates the ubiquitous $6 drugstore toaster.... Thwaites is a laugh-out-loud-funny but thoughtful guide through his own adventures, touching provocatively on ideas as far-ranging as medieval metallurgy, sustainability, mass production, and our 'throwaway' consumer culture. You'll buy it as a gift for the title and the concept, but you'll end up keeping it for yourself once you crack the cover -- so take my advice and buy two." -- NPR.org

"Thomas Thwaites has turned toast into a philosophical inquiry." -- TheRumpus.net

"As befits the project, the book is hilarious. I never though reading about iron smelting and descents into mines would be so engrossing."-- We Make Money Not Art

"One of the most exciting books to come across my desk in the last while.... A hilarious, wonderfully wrought account of how hard it is to really make anything from scratch, much less an electronic device." -- Aaron Britt, Dwell.com

"Funny and thoughtful" -- the Boston Globe

"My new hero is Thomas Thwaites, who built a toaster from scratch in nine months, and wrote a delightful yet weighty little book called The Toaster Project about the process.... The completed toaster looks more like 'what happened?' than a finished product. But Thwaites is an inspiring maker, as he embraces his failures, recalibrates the 'rules' as necessary (using a high-tech piece of machinery like a microwave, for example, was not part of the original plan), and sees the project through to the end." -- San Jose Mercury News

"This fascinating book follows the adventures of Thomas Thwaites as he attempts to build a toaster. from scratch. He molds his own plastic, extrudes his own nickel-chromium wire, and refines iron ore to build the frame. It's an entertaining and well-written book, and I love how Thwaites embraces failure as a part of the story, which is a reality for many "maker" style projects" -- Wired.com
Princeton Architectural Press, 9781568989976, 192pp.
Publication Date: September 28, 2011
Coverage from NPR