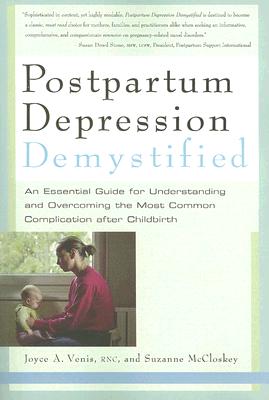 Postpartum Depression Demystified
An Essential Guide for Understanding and Beating the Most Common Complication after Childbirth
Paperback

* Individual store prices may vary.
Description
Postpartum depression is the most common complication women experience after childbirth -- nearly 700,000 new moms suffer from it each year. Yet this serious mood disorder, characterized by sadness, anxiety, feelings of hopelessness and guilt, insomnia, and thoughts of harming the baby or oneself, continues to be widely misunderstood and frequently misdiagnosed. In Postpartum Depression Demystified, renowned PPD authority Joyce Venis and Suzanne McCloskey, both PPD sufferers themselves, turn their combined experience and expertise into an insightful and supportive guide for everyone living with and seeking to understand this condition. Venis and McCloskey cover topics including: the nature of PPD and how it differs from other perinatal mood disorders how to recognize and cope with the symptoms how to obtain an accurate diagnosis key risk factors and how to minimize them medications and therapies getting the support you need from your partner, family, and friends how PPD can affect your relationship with your partner and your baby nurturing yourself through recovery.
Da Capo Lifelong Books, 9781569242667, 256pp.
Publication Date: March 8, 2007
About the Author
Joyce A. Venis, RNC is a Psychiatric Registered Nurse and the president of Depression After Delivery, Inc. With over thirty years of nursing experience, Venis is a nationally recognized figure and highly regarded for her work and clinical expertise in pregnancy, postpartum, PMS, perimenopause, and menopause. Venis is founder and director of the Princeton Area D.A.D., Inc. PPD support group. She also started the first PMS support group in New Jersey, which continues today as the Women's Support Group at Robert Wood Johnson University Hospital.

Venis lectures extensively (at venues including Harvard and Fordham universities), has been on multiple television and radios shows, including Geraldo, Oxygen, and Lifetime, and was selected for inclusion in Who's Who in American Nursing. She has been interviewed for various publications including Newsweek, the Chicago Sun, Parenting, Parents, American Baby, and Jet. She has testified before Congress, participated in the formulation of a state resolution, and was an instrumental witness for a PPD case in New Jersey. Perhaps, most notably in this context, she is a PPD survivor. Her son, Mark, is now thirty-five years old and is affectionately called the "PMS/PPD Poster Child". Her plight took her through twenty-two different healthcare modalities during her PPD. "There is no reason for anyone to suffer as I did . . . that is why I do what I do. It was meant to be." Besides her son Mark, Ms. Venis has three stepdaughters and four grandchildren. She lives in northern New Jersey.

Suzanne McCloskey was until January 2006 an editor at Marlowe & Company, where she acquired and edited many books on health, psychology, relationships, and parenting, including, in the Demystified series, Borderline Personality Disorder Demystified. She lives in Westchester County, NY.