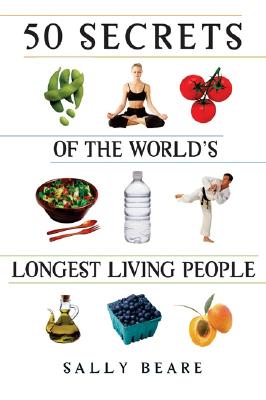 50 Secrets of the World's Longest Living People (Paperback)
Da Capo Lifelong Books, 9781569243480, 320pp.
Publication Date: December 21, 2005
* Individual store prices may vary.
Description
Today we are living longer than ever before, and a few of us can expect to live to 100 or more. But many people feel that they will inevitably suffer the diseases of old age in their final years. Pharmaceutical companies have spent billions of dollars trying to find a cure for the "diseases of aging"—they may have found ways to stem some of the symptoms, but they have yet to find a panacea. Yet there are places in the world where, all along, people have commonly lived to 100 or more without suffering so much as a headache. How do they do it? The answer is simple: through sound dietary habits and balanced, healthy lifestyles. The 50 Secrets of the World's Longest Living People looks at the nutrition and lifestyle mores of the world's five most remarkable longevity hotspots—Okinawa, Japan; Bama, China; Campodimele, Italy; Symi, Greece; and Hunza, Pakistan—and explains how we too can incorporate the wisdom of these people into our everyday lives. It offers each of the secrets in detail, provides delicious, authentic recipes, and outlines a simple-to-master plan for putting it all together and living your best, and longest, life.
About the Author
Sally Beare was born in the UK and was educated at St. Paul's Girls' School in London and at Durham University, England, where she obtained a bachelor's degree in Combined Arts (English, Psychology and Russian Literature). She has worked as an environmental campaigner, a teacher at a secondary school, and a television researcher and producer. She decided to become a nutritionist after a dramatic improvement in her own life and health resulted from changing her diet and she subsequently studied at the British College of Nutrition and Health in London. She currently lives in Islamabad, Pakistan, with her husband and their daughter.
or
Not Currently Available for Direct Purchase