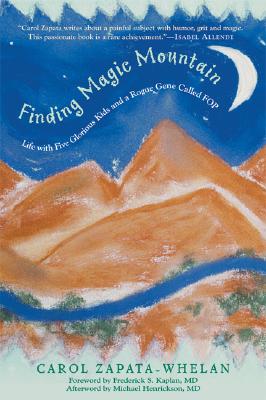 Finding Magic Mountain
Life with Five Glorious Kids and a Rogue Gene Called FOP
Paperback

* Individual store prices may vary.
Description
Carol Zapata-Whelan describes her son's struggle with the rare genetic disease Fibrodysplasia Ossificans Progressiva (FOP), focusing on the time of diagnosis at age nine to his first year in college (he matriculated as a pre-med student at the University of California, Berkeley, in September 2004). Zapata-Whelan illustrates how this struggle with FOP has shaped and strengthened her family, and how, as a mother, the experience has taught her to put her trust in the universe, and live life one day at a time. Through her son's remarkable grace and strength in dealing with his disease, she has learned that an unexpected encounter with suffering can be a blessing as well. Through flashbacks and anecdotes, Zapata-Whelan leads the reader through the ups and downs of dealing with FOP in everyday life, while offering insight, hope and guidance throughout.
Da Capo Lifelong Books, 9781569244005, 320pp.
Publication Date: August 1, 2006
About the Author
Carol Zapata-Whelan, PhD, raised between Argentina and the U.S., earned her doctorate in comparative literature at UCLA, is lecturer in Spanish and Hispanic Literature at Cal State University, Fresno, and the mother of five children. Her writing about FOP has been published in Newsweek, Exceptional Parent Magazine, Angel Over My Shoulder: 40 True Stories of Angelic Encounters (Fair Winds), Diario Uno, El Andar, and Under the Fifth Sun: Latino Literature from California (Heyday), which won the American Book Award in 2002 (and where Zapata-Whelan's work appears alongside writers including Carlos Fuentes and Isabel Allende), and has appeared through Hispanic Link News Service (affiliated with the Los Angeles Times News Syndicate). Additional work appears in Chicken Soup for the Latino Soul and TK. In 200X Zapata-Whelan won an award for short ficton featuring FOP from the National League of American PEN Women. She lives with her husband and her four youngest children in Clovis, Calif.; her son Vincent enrolled in September 2004 as a pre-med student at UC Berkeley.
or
Not Currently Available for Direct Purchase