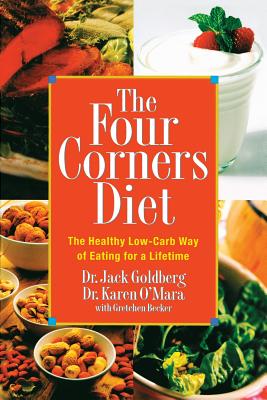 The Four Corners Diet
The Healthy Low-Carb Way of Eating for a Lifetime
Paperback

* Individual store prices may vary.
Description
In 1996, Drs. Goldberg and O'Mara embarked on an in-depth review of the scientific literature concerning weight loss and improvements in serum lipids through diet, as well as all of the popular diets being touted at the time. Sifting through hundreds of studies, they set out to create their own diet -- one based on the most proven elements and soundest data from the scientific literature. The diet they created emphasizes very low carbohydrates with normal protein amounts, using high monounsaturated fats and reducing saturated fats, eating plenty of fiber, as well as natural sources of vitamins and nutrients from a variety of vegetables and some dairy products. After first testing the diet on themselves, and both losing weight, they started a formal clinical study in moderate-to-severely obese subjects, and they and others have now tested this diet more informally with hundreds of people of varying weights and ages. The Four Corners Diet has proven to be a bold and easy plan for eating a healthy, nutritionally balanced diet at each meal, every day, for losing weight now -- and keeping it off for life.
Da Capo Lifelong Books, 9781569244272, 272pp.
Publication Date: April 29, 2004
About the Author
Dr. Jack Goldberg, ph.d., is a clinical biochemist and research scientist. His longstanding interest in diet and nutrition began with his discovery and patent of the first commercial kit to measure HDL cholesterol. He lives in Chicago. Dr. Karen O'Mara, d.o., is a board-certified specialist in internal medicine and critical care. Her interest in nutrition and the effects of diet on health and illness has spanned her twenty-plus-year career in medicine. She lives in Chicago. Gretchen Becker is the author of The First Year™—Type 2 Diabetes and Stop Diabetes. She lives in Jacksonville, Vermont.