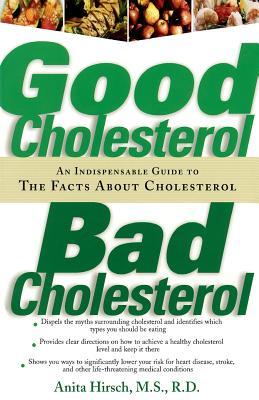 Good Cholesterol, Bad Cholesterol
An Indispensable Guide to the Facts about Cholesterol
Paperback

* Individual store prices may vary.
Description
High cholesterol is an important risk factor for heart disease, heart attack, and strokes. And although cholesterol screening is one of the most widely administered and evaluated blood tests, many people don't realize that our bodies require some cholesterol to function normally and remain confused about which cholesterol is the "good" one and which is the "bad." Now, in Good Cholesterol, Bad Cholesterol, Hirsch presents a clear, concise primer to all the varieties of this blood lipid, including HDL (high-density lipoprotein), LDL (low-density lipoprotein), VDL (very low density lipoprotein), and others, as well as the connection between the ways various types of fat affect cholesterol levels. Providing essential information about how cholesterol relates to heart disease, stroke, and other life-threatening medical conditions, this essential primer also provides guidance about how to manage your cholesterol levels—through diet, exercise, and stress management—for optimum, lifelong health.
Da Capo Lifelong Books, 9781569245286, 128pp.
Publication Date: August 6, 2002
About the Author
Anita Hirsch, M.S., R.D., has worked in the food, health, and nutrition fields for thirty years-more than twenty of them spent developing and testing recipes for health books and magazines at Rodale Press. She has taught courses in food and cooking at the college level and is the author, most recently, of Drink to Your Health. She lives in Allentown, Pennsylvania.