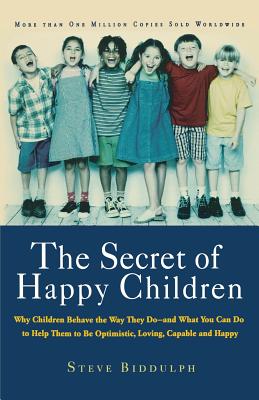 The Secret of Happy Children
Why Children Behave the Way They Do -- and What You Can Do to Help Them to Be Optimistic, Loving, Capable, and Happy
Paperback

* Individual store prices may vary.
Description
Psychologist and family counselor Steve Biddulph has been hailed as a "childhood guru" (The Guardian) and a "publishing phenomenon" (the Times, London), and this is his landmark book, the foundation for his major international reputation. With unparalleled clarity, common sense, and warmth, The Secret of Happy Children instructs all parents about parent-child communication from babyhood to teens. It gives parents confidence to be more themselves as parents -- stronger, more loving, more definite, more relaxed. Biddulph reveals what is really happening inside kids' minds and what to do about it. He covers a wide variety of issues important to a child's -- and a parent's -- happiness, including stopping tantrums before they begin, curing shyness, the link between food and behavior, and much more. Parents will find themselves letting go of old, negative approaches and freeing up more energy to enjoy their kids and their own lives.
Da Capo Lifelong Books, 9781569245705, 208pp.
Publication Date: May 17, 2002
About the Author
Steve Biddulph, a family psychologist for over twenty years, is the author of five other books. He lives in New South Wales, Australia.