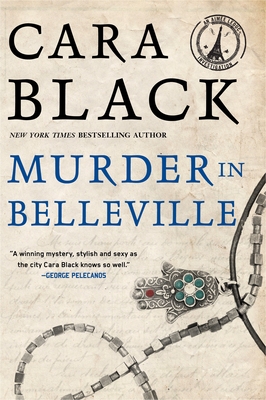 Murder in Belleville (An Aimée Leduc Investigation #2)
Paperback

* Individual store prices may vary.
Other Editions of This Title:
Digital Audiobook (9/26/2013)
Description
The second Aimée Leduc investigation set in Paris

When Anaïs de Froissart calls Parisian private investigator Aimée begging for help, Aimée assumes the woman wants to hire her to do surveillance on her philandering politician husband again. Aimée is too busy right now to indulge her. But Anaïs insists Aimée must come, that she is in trouble and scared. Aimée tracks Anaïs down just in time to see a car bomb explode, injuring Anaïs and killing the woman she was with.

Anaïs can't explain what Aimée just witnessed. The dead woman, Anaïs says, is Sylvie Coudray, her cheating husband's long-time mistress, but she has no idea who wanted her dead, and Anaïs officially hires Aimée to investigate. As she digs into Sylvie Coudray's murky past, Aimée finds that the dead woman may not be who Anaïs thought she was. Her Belleville neighborhood, full of North African immigrants, may be hiding clues to Sylvie's identity. As a prominent Algerian rights activist stages a hunger protest against new immigration laws, Aimée begins to wonder whether Sylvie's death was an act of terrorism, and who else may be at risk.
Praise For Murder in Belleville (An Aimée Leduc Investigation #2)…
Praise for Murder in Belleville

"If you've always wanted to visit Paris, skip the airfare and read Cara Black's Murder in Belleville instead. It's so authentic you can practically smell the fresh baguettes and coffee."
—Val McDermid

"While Aimée grounds the novel with her strong, savy personality, in Murder in Belleville the real star of the show is Cara Black's depiction of contemporary Paris with its racial tensions and seedly underworld. The sights, sounds and smells of the city are captured in exquisite detail."
—San Francisco Chronicle

"Cara Black and Aimée Leduc are to Paris what Sara Paretsky and V.I. Warshawski are to Chicago . . . She makes Paris come alive as no one has since Georges Simenon."
—Stuart M. Kaminsky

"Intriguing . . . The suspense begins immediately . . . Some of Black's strongest writing is in her descriptions of Belleville's heady atmosphere."
—Publishers Weekly

"Blurring the edge between mystery and thriller, Black's second makes April in Paris more spine-tingling but more beautiful than ever."
—Kirkus Reviews


Praise for the New York Times bestselling Aimée Leduc series

"Transcendently, seductively, irresistibly French."
—Alan Furst

"Wry, complex, sophisticated, intensely Parisian . . . One of the very best heroines in crime fiction today."
—Lee Child

"As always, with airfares so high, Black offers armchair travelers a whirlwind trip through the City of Light."
—USA Today
 
"Paris, as always, sparkles in all its gargoyled, dusty, cobblestoned glory."
—Entertainment Weekly

"Forever young, forever stylish, forever in love with Paris—forever Aimée."
—New York Times Book Review 
 
"Leduc has a network of loyal friends to aid in her escapades. Pity the knife-wielding villain who offends that infallible sense of style."
—The Wall Street Journal
 
"A tightly spun web worthy of a classic spy thriller . . . Leduc's City of Light is a stylish, dangerous place."
—The Washington Post
 
"Leduc has a thorough grasp of the practicalities of investigation, plus a penchant for undercover work that will have readers on pins and needles."
—San Francisco Chronicle
 
"Chic and utterly charming."
—The Milwaukee Journal Sentinel
 
"Addictive . . . Leduc is always a reliable and charming guide to the city's lesser-known corners."
—Seattle Times

Soho Crime, 9781569472798, 368pp.
Publication Date: July 1, 2003
About the Author
Cara Black is the author of twenty books in the New York Times bestselling Aimée Leduc series and the thriller Three Hours in Paris. She has received multiple nominations for the Anthony and Macavity Awards, and her books have been translated into German, Norwegian, Japanese, French, Spanish, Italian, and Hebrew. She lives in San Francisco with her husband and visits Paris frequently.