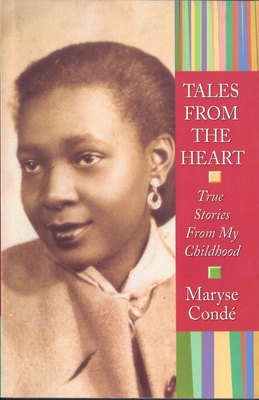 Tales from the Heart
True Stories from My Childhood
Paperback

* Individual store prices may vary.
Description
Winner of the 2018 New Academy Prize in Literature

In this collection of autobiographical essays, Maryse Condé vividly evokes the relationships and events that gave her childhood meaning: discovering her parents' feelings of alienation; her first crush; a falling out with her best friend; the death of her beloved grandmother; her first encounter with racism.

These gemlike vignettes capture the spirit of Condé's fiction: haunting, powerful, poignant, and leavened with a streak of humor.
Praise For Tales from the Heart: True Stories from My Childhood…
Winner of the 2018 New Academy Prize in Literature

Praise for Tales from the Heart

Winner of the 1999 Prix Yourcenar

"Honest, exquisitely measured... inspiring in its reminder of the human spirit's capacity to endure."
—The New York Times Book Review

"[An] astute study of family and place."
—Washington Post Book World

"Upon reaching the final page and the start of Condé's journey to adulthood, readers will regret that this brief, colorful and lively remembrance has ended."
—Publishers Weekly

"A useful look at the psychological consequences of intolerance."
—Kirkus Reviews

Praise for Maryse Condé

"An exceptional journey, Maryse Condé weaves an extremely luminous and poetic tale of a woman's transformations as she makes her way through many physical and mental landscapes. Maryse Condé gives us, as always, a remarkable story filled with striking revelations."
—Edwidge Danticat

"Condé is a masterly storyteller who also proves deft at reinterpretting other people's stories, as she shows here with this energetic reimagining of Wuthering Heights here set in Cuba and Guadeloupe at the turn of the century."
—The New York Times Book Review

"She creates a narrative that seduces, evokes and makes us think about the kinds of emotions that have moved human beings throughout our existence."
—Chicago Tribune

"Exotic and eloquent."
—USA Today

"A confident and incisive Caribbeanization of a European master-text by a master novelist of African descent."
—Village Voice

"Condé has conjured up a tale of memory and legacy that is both lyrical and harrowing. A-."
—Entertainment Weekly

Soho Press, 9781569473474, 158pp.
Publication Date: January 1, 2004
About the Author
Maryse Condé is the author of I, Tituba: Black Witch of Salem, Tree of Life, Crossing the Mangrove, and The Last of the African Kings, among others. She is the recipient of the prestigious French award, the alternative Nobel Prize for literature, Le Grand Prix Littéraire de la Femme, and a Guggenheim Fellow. She is a professor of French Caribbean Literature at Columbia University. She and her husband Richard Philcox, who masterfully translated Windward Heights, divide their time between New York City and Guadeloupe.