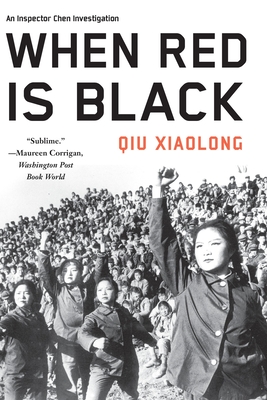 When Red Is Black (An Inspector Chen Investigation #3) (Paperback)
Soho Crime, 9781569473962, 322pp.
Publication Date: August 1, 2005
Other Editions of This Title:
Hardcover (7/1/2004)
* Individual store prices may vary.
Description
When the murder of a woman is reported to the Shanghai police while Inspector Chen is on vacation, Sergeant Yu is forced to take charge of the investigation. The victim, Yin Lige, a novelist known for her banned book, has been found dead in her tiny, humble room off the stairwell of a converted multi-family house. It seems that only a neighbor could have committed the crime, for the building is kept locked at night. But there is no apparent motive. Sergeant Yu tries to unravel the reclusive woman's past and begins to realize it may have larger political implications. The Cultural Revolution might be more than 30 years in the past, but its effects can still be felt at every level of Chinese society.
About the Author
Qiu Xiaolong has been published in more than twenty languages, and more than one million copies of his mysteries, poetry, and literary criticism are in print around the world. He is the author of eight other Inspector Chen Cao mysteries, including A Loyal Character Dancer and Death of a Red Heroine. He lives in St. Louis with his wife and daughter.
Praise For When Red Is Black (An Inspector Chen Investigation #3)…
"[Qiu Xiaolong's] finest novel."
—The New York Times

"A vivid portrait of modern  Chinese society . . . A work of real distinction."
—The Wall Street Journal

"These are mysteries to savor."
—Booklist, Starred Review

"Chen is the fascinating creation of poet and translator Qiu Xiaolong . . . As in Qiu's first two books, the ghosts of Mao's bloody Cultural Revolution . . . lead to murder."
—Chicago Tribune

"Read When Red Is Black for insights into understanding today's Shanghai and China."
—St. Louis Post-Dispatch

"Compelling."
—Times-Picayune

"A great read."
—The Guardian

"The most sophisticated series to date, and one feels Qiu pushing the envelope of the detective series genre."
—Asian Review of Books

 "Shanghai in transition . . . Fascinating."
—Kirkus Reviews

"Insightful."
—Publishers Weekly

 "[A] terrific series . . . A cultural twist and unusual direction that make [Qiu's] books well worth reading."
—Rocky Mountain News

 "A terrific murder mystery."
—The Midwest Book Review

"Captivating and Intriguing."
—Mystery News