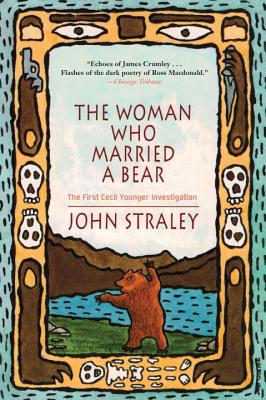 The Woman Who Married a Bear (Paperback)
Soho Press, 9781569474013, 225pp.
Publication Date: July 1, 2005
Description
In Sitka, Alaska, a subarctic port surrounded by snow-dusted mountains, an aged Tlingit Indian woman engages local investigator Cecil Younger to look into her son's murder. The crime has long since been marked solved by the authorities. But what Younger unearths is a primal conspiracy to hide both the motive for the victim's murder and the true identity of the killer.
About the Author
John Straley, a criminal investigator for the state of Alaska, lives in Sitka with his son and wife, a marine biologist who studies whales. He is the Shamus Award-winning author of The Curious Eat Themselves; Cold Storage, Alaska; and The Big Both Ways. He was appointed the Writer Laureate of Alaska in 2006.
Praise For The Woman Who Married a Bear…
Praise for John Straley

"Lesser writers look to their characters' poor choices and attempts to rectify them, John Straley loves his characters for just those choices.  Hölderlin wrote: 'Poetically man dwells on the earth.' Some of us wind up in limericks, some in heroic couplets. But damned near every one of us, sooner or later, ends up in one of Straley's wise, wayward, wonderfully unhinged novels."
—James Sallis, author of Drive and the Lew Griffin mysteries

"Like the Coen brothers on literary speed, John Straley is among the very best stylists of his generation."
—Ken Bruen, Shamus Award winning author of The Guard

"Chandler, Ross Macdonald, James Crumley... Straley proves once again that he is up there with the great ones… His prose is as smooth as a well-tuned cello. He has tremendous feeling for the setting: not only the open waters and frosted countryside outside of Sitka and Juneau, but also the somewhat seedy streets of these cities."
—Chicago Tribune

"Superior thriller writing, once again by Straley—an excellent plot against Alaska's gigantic and bizarre backdrop."
—Janwillem van de Wetering

"Now and then a writer dares to flout the rules and in so doing, carves out a niche that belongs to him alone. John Straley's novels are like no others."
—San Diego Tribune

"Like James Lee Burke, Straley transcends the genre.... Marvelous."
—The Tampa Tribune and Times

"Straley's beautifully understated narrative, vivid sense of place and unapologetic, unadorned characters make this a riveting, unpredictable ride."
—Publishers Weekly, Starred Review

"Outstanding.... satisfies on all levels."
—The Kansas City Star

"Strong and sobering... with his storyteller's sense of dramatic action [Straley's] in his glory."
—The New York Times Book Review

"Straley hits all the right notes"
—Booklist, Starred Review
Advertisement