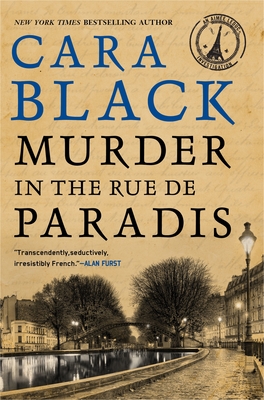 Murder in the Rue de Paradis (An Aimée Leduc Investigation #8)
Paperback

* Individual store prices may vary.
Other Editions of This Title:
Digital Audiobook (9/25/2008)
Description
Parisian P.I. Aimée Leduc is head-over-heels when a former boyfriend, an investigative journalist, reappears and proposes—but his professional past has caught up with him, and now Aimée must figure out who would want him dead

Aimée Leduc seems to be having a streak of good luck. First, she secures a lucrative computer security contract for her Paris detective agency. Then her ex-boyfriend Yves, the gorgeous bad-boy investigative journalist, reappears in her life. He insists he's back in Paris indefinitely—and wants to make the ultimate commitment. He proposes to her that very night, and Aimée can't help but say yes.

When she wakes up in the morning, though, Yves is gone without even leaving a note. Aimée is irate until she learns the awful truth: Yves was murdered early that morning. Heartbroken and convinced the Brigade Criminelle are not following the right leads, Aimée pursues the mystery behind her fiancé's murder. Yves was killed trying to further a cause he believed in. Even if it means putting her own life on the line, Aimée won't let him die in vain.
Praise For Murder in the Rue de Paradis (An Aimée Leduc Investigation #8)…
Praise for Murder in the Rue de Paradis

"A tightly spun web worthy of a classic spy thriller . . . Leduc's City of Light is a stylish, dangerous place throbbing by night to an ominous techno world beat, and Aimée Leduc is a marvelous invention, a thirdgeneration Sam Spade in couture."
—Washington Post Book World

"Brimming with Middle Eastern intrigue that reflects the modern era."
—The Christian Science Monitor

"Black deftly makes the history of the city resonate . . . Murder in the Rue de Paradis is a page-turner, but some of its pages invite you to linger and reflect."
—San Francisco Gate

"Riveting . . . Aimée Leduc, smart, spirited and sassy, takes the reader on an action-packed ride fueled by the hidden secrets of her beloved Paris."
—Publishers Weekly


Praise for the New York Times bestselling Aimée Leduc series

"Charming . . . Aimée is one of those blithe spirits who can walk you through the city's historical streets and byways with their eyes closed."
—The New York Times Book Review

"Cara Black books are good companions. . . . Fine characters, good suspense, but, best of all, they are transcendently, seductively, irresistibly French. If you can't go, these will do fine. Or, better yet, go and bring them with you."
—Alan Furst

"Conveys vividly those layers of history that make the stones of Paris sing for so many of us."
—Chicago Tribune

"If you've always wanted to visit Paris, skip the air fare and read Cara Black . . . instead."
—Val McDermid

"The buzz is partly about her heroine's hip, next-generation, cutting-edge investigations and partly about Paris, a setting of unrivaled charm."
—Houston Chronicle

"Compelling . . . Aimée makes an engaging protagonist, vulnerable beneath her vintage chic clothing and sharp-witted exterior."
—Publishers Weekly, Starred Review
Soho Crime, 9781569475423, 336pp.
Publication Date: March 1, 2009
About the Author
Cara Black is the author of sixteen books in the New York Times bestselling Aimée Leduc series. She lives in San Francisco with her husband and visits Paris frequently.