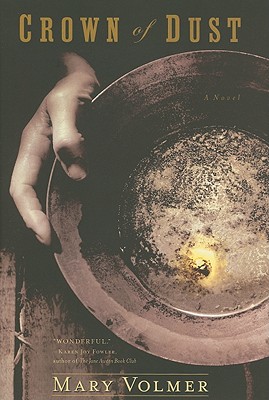 Crown of Dust
Hardcover

* Individual store prices may vary.
Other Editions of This Title:
Paperback (11/1/2011)
Description
The gold rush has taken hold of the Wild West. Pioneers from around the country congregate in makeshift settlements like Motherlode in hopes of striking it rich. It's here that Alex, disguised as a boy and on the run from her troubled past, is able to blend in among the rough and tumble prospectors living on little more than adrenaline and moonshine.
Word spreads quickly when Alex becomes the first in Motherlode to strike gold. Outsiders pour in from wealthy east coast cities, primed to cash in on the discovery. But these opportunists from the outside world have no place in Motherlode and threaten to rip the town and its residents apart. Alex must fight to protect her buried secrets and her life. And against the odds, it's here, in this lawless outpost, that Alex is finally able to find friendship, redemption, and even love.
"From the Trade Paperback edition.
Praise For Crown of Dust…
"There are subliminal echoes of L. Frank Baum in Volmer's mythmaking.... But Volmer keeps whimsy in check with a terse present-tense voice that invests her pioneers piquant inner lives and a poker-faced lyricism."—The New York Times Book Review
 
"Mary Volmer possesses such fierce powers of description, I could almost feel the dust of Motherlode clinging to the hem of my skirt. In Crown of Dust, Volmer has created an intensely physical and utterly enjoyable novel, filled with unforgettable characters." —Michelle Richmond, author of The Year of Fog, No One You Know
 
"Volmer's distinctive, beautifully written debut is set in the California gold rush country in the mid-19th century … [her] prose is taut and restrained, moving the story along at a healthy clip as her hardscrabble characters rumble and stumble through their dusty domain. Volmer's found a fat vein of gold in some heavily mined territory."—Publishers Weekly Starred Review
 
"Any illusions about the glamour of digging for gold are totally shattered by Mary Volmer's "Crown of Dust," a grim and carefully researched book about the California gold rush.... Volmer, in her remarkable first novel, has re-created the reality of an era that few can even visualize now."—Washington Times
 
"Volmer paints a moving portrait of outcasts and nonconformists who build their own community ... evocative historical background and thoughtful social observation make this a promising debut."—Kirkus Reviews
 
"Volmer's colorful debut is in many ways a typical Western, heavy on action and subplots involving miners, unions, and strikes ... fresh and different ..."—Library Journal
 
"Volmer's first novel is a pleasant effort.... She captures the authenticity of place and the spirit of the period through the greed, exhilaration, disappointment and hope of the characters."—Booklist
Soho Press, 9781569478615, 274pp.
Publication Date: November 1, 2010
About the Author
Mary Volmer was born in Grass Valley, California, and now lives in the San Francisco Bay Area. She earned an MFA in Creative Writing from Saint Mary s College and master s degree from the University of Wales, Aberystwyth, where she was a Rotary Ambassadorial Scholar. She has been awarded residencies at the Vermont Studio Center and Hedgebrook and now teaches at Saint Mary s College. She is also the author of "Reliance, Illinois." "From the Trade Paperback edition.""
Although Alex is the most notable example, most of characters in Crown of Dust are in some way haunted by, and running from, their pasts. Do any of these characters succeed in escaping their pasts?
"Some men," says Emaline, "Some men just need killing." Do you believe Alex's crime was justified? If she ever meets Jackson Hudson again, would she be justified in killing him? Do you think she would kill him?
Discuss the unique social order in place in Motherlode when Alex arrives. Who governs the place? How are disputes settled? How are poplar 19th century notions of religion, spirituality and morality revised to fit the needs of this community?
During westward expansion and the American Civil War, a surprising number of women disguised themselves as men in order to follow a son or a husband west, or into battle, or in order to live with and love another woman, or to escape a crime, as Alex does. A number of women disguised themselves simply to gain the opportunities and freedoms men enjoyed; as men they voted, drove stagecoaches, fought battles, and worked cattle drives. What freedoms does Alex enjoy while living as a boy that Emaline and Lou Ann do not? What must she sacrifice to live as a man? Do you think that Alex, upon leaving Motherlode, will choose to live as a man or as a woman, or both?
In what way is Emaline's authority, and the town itself, threatened by the discovery of gold and by the quick arrival of "polite" society? Is this threat adequately illustrated by the conflict between Emaline and Mrs. Dourity? Are women, like Mrs. Dourity, to blame for perpetuating rigid gender roles in society? What attitudes and fears motivate Emaline and Mrs. Dourity's mutual disregard?
"She no longer minds the fatigue, the rough calluses forming on her hands, the solid indentions developing where she never dreamt muscles lurked. With each new ache, she discovers a new, living part of herself. Filling out, the men call it, but to Alex it feels more like filling in…"
While Alex cannot physically become a boy, hard physical labor in the mine does transform her body and her mind. Describe how this transformation changes her perspective of her own worth and of her place in the town. How does this transformation change how others view her?
If David had not discovered Alex was a woman, do you think he would still have allowed himself to love her?
In spite of her love for Jed, Emaline's treatment of the Chinese miners reveals she is not free of racial prejudice. Do her actions disappoint you? Why does she feel justified in mistreating the Chinese men? What does her behavior reveal about the complicated nature of racial prejudice?
What profession can you image Limpy assuming in the 21st century?
Before reading Crown of Dust, what did you know about the California Gold Rush? How did this novel shape your understanding of the daily life, the prevalent biases, prejudices and hardships prospectors endured during the Gold Rush? Were you aware of the role women played in shaping new gold rush communities?
or
Not Currently Available for Direct Purchase