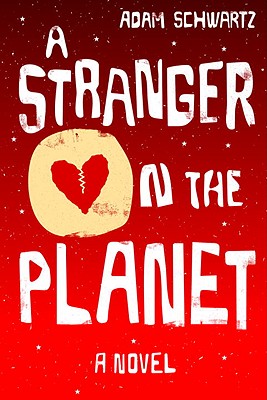 A Stranger on the Planet
Hardcover

* Individual store prices may vary.
Other Editions of This Title:
Paperback (1/10/2012)
Description
In the summer of 1969, twelve-year-old Seth lives with his unstable mother, Ruth, and his brother and sister in a two-bedroom apartment in New Jersey. His father lives with his new wife in a ten-room house and has no interest in Seth and his siblings. Seth is dying to escape from his mother's craziness and suffocating love, her marriage to a man she's known for two weeks, and his father's cold disregard.
 
Over the next four decades, Seth becomes the keeper of his family's memories and secrets. At the same time, he emotionally isolates himself from all those who love him, especially his mother. But Ruth is also Seth's muse, and this enables him to ultimately find redemption, for both himself and his family.
Praise For A Stranger on the Planet…
"A Stranger on the Planet is charming.... [Schwartz's] sincerity is genuinely winning.... original, sensitive and, unlike its hero, it's always, always likable."—NPR.org

"Masterful and richly textured."—Boston Globe

"A Stranger on the Planet is the first great Jewish novel of 2011 and a book for outsiders of all stripes, one that serves as a reminder of how many chapters we all get."—Jewcy.com

"Funny, honest and obsessive, A Stranger on the Planet is finally as beautiful as it is driven. Charming, too: Adam Schwartz is one part Philip Roth, but with a neurosis all his own."—Gish Jen, author of World and Town

"With exhilarating wit, skill and passion Adam Schwartz covers more than thirty years in Seth's life as he fights with, negotiates, distances himself from and embraces his vivid, difficult relatives. A Stranger on the Planet brings us a hero who is almost heroically anti-heroic, and who can be counted on to almost always act, endearingly, in his own worst interests. I would happily have followed him anywhere."—Margot Livesey, author of The House on Fortune Street

"This is a stunningly good book. Adam Schwartz bestows the story of the Shapiro family to us with irresistible grace, humor, and conviction. A Stranger on the Planet is utterly charming, and deliciously satisfying."—Don Lee, author of Wrack and Ruin and Country of Origin

"With a quirky frankness, A Stranger on the Planet reveals how the hardships that fate swings our way can make us attuned to life's larger possibilities."—Sana Krasikov, winner of the Sami Rohr Prize for Jewish Literature for One More Year
Soho Press, 9781569478691, 291pp.
Publication Date: January 25, 2011
About the Author
Adam Schwartz is a Senior Lecturer in the Writing Program at Wellesley College. His stories have been widely anthologized, and portions of "A Stranger on the Planet" have previously been published as stories in "The New Yorker." He is a graduate of the University of Iowa's Writers' Workshop. This is his first novel.
"Do you know what your problem is?" Seth's father says to him. "You remember everything that's not important." What role does Seth's memory play in the novel? Despite his father's comments, why is Seth's capacity for remembering "everything that's unimportant" one of his most valuable and endearing qualities? Near the end of the book, Seth comments, "We'd be the happiest family in the world if no one remembered anything." But how do the stories and memories of any family define and enrich their lives? What is the role of memory and storytelling in any family's understanding of itself?
Seth's brother, Seamus, accuses Seth of acting funny when he's really sad. What is the role of humor in a novel with so much sadness?
Seth is deeply in love with his wife, Molly, but confesses to his sister that he didn't love her well enough. Why doesn't Seth do a better job of loving Molly?
On her deathbed, Ruth says to Seth, "I hope I was a good mother," and Seth replies, "Yes, of course you were." Does Seth believe his own words? Is Ruth a good mother? Is Seth a good son?
Like many children of difficult parents, Seth and Sarah are afraid of becoming like their mother. But how are both Seth and Ruth "Strangers on the Planet"?
The one male character Seth forms a close relationship with is Raymond, who is blind and gay. Why does Seth befriend Raymond, and why does he react so badly when he realizes that Raymond is gay?
One of the turning points in the novel is when Seth decides to keep his story from being published. Ten years later, he rereads the story and realizes that it was the most meaningful thing he had accomplished in his life. Why does Seth feel this way? What has he forfeited by abandoning his promise as a writer? What other opportunities has Seth undermined in his life? Why does he act against his own self-interest on so many occasions? Later on in the same chapter, Seth says, "I had always been too cautious to embrace what I wanted; I had always played the odds in life." How does this quote help explain why Seth never writes another story after "A Stranger on the Planet"?
In the chapter "Virgins," Rachel looses her virginity to Seth, but how does Seth loose his "virginity" as a writer? How does this experience change his life?
What is the relationship between the short story "A Stranger on the Planet" and the novel itself? Early in the novel, Seth says, "Nothing seemed real to me except the novels I read." Why is literature such an important medium of self-knowledge for Seth?
After Seth and Raymond see the movie The Searchers, Raymond comments: "John Wayne isolates himself from love and caring. But when he discovers Natalie Wood, he realizes his capacity for nurturing and love. She's his best half and he finally becomes a whole person." How do Raymond's words also characterize Seth? Does Seth ever become a whole person? Does he ever find his best half?
or
Not Currently Available for Direct Purchase