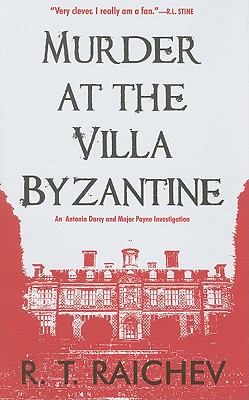 Murder at the Villa Byzantine: An Antonia Darcy and Major Payne Investigation (Hardcover)
An Antonia Darcy and Major Payne Investigation
Soho Constable, 9781569479148, 214pp.
Publication Date: April 19, 2011
* Individual store prices may vary.
or
Not Currently Available for Direct Purchase
Description
When a birthday party for one of their Hampstead neighbors turns deadly, Antonia Darcy and Major Hugh Payne end up investigating the murder of one of Melisande Chevret's other guests. The aging actress becomes a natural suspect, as the victim was her love rival. But after the first murder, a second takes place at the Villa Byzantine. The owner of the house is royal biographer Tancred Vane, who swears he is innocent. And surely Catherine Hope, an elderly lady helping him with his research, can have nothing to do with it. A damning piece of evidence points to the victim's daughter--but why would that a teenage girl have a dainty silk handkerchief bearing her monogram? And would she drop it so conveniently beside her mother's body? As the questions mount, Antonia Darcy and Major Payne search desperately for answers.
About the Author
R.T. Raichev is a researcher and writer who grew up in Bulgaria and wrote a university dissertation on English crime fiction. He is the author of six novels in the Antonia Darcy series and has lived in London since 1989.
Praise For Murder at the Villa Byzantine: An Antonia Darcy and Major Payne Investigation…
Praise for Murder at the Villa Byzantine:

"I have read all of Raichev's books. They are very clever. I really am a fan."—R.L. Stine

"R.T. Raichev, a Bulgarian-born Brit, delivers this classic with the perfect panache one expects from an author who wrote his doctoral dissertation on English crime fiction…Fans of the classic mystery who haven't already discovered this excellent series should start here and then read the rest."—Toronto Globe and Mail

"Clever . . . Set in contemporary London, Raichev's series has attitude, like a mash-up of Evelyn Waugh, P.G. Wodehouse and P.D. James."—Milwaukee Journal-Sentinel

"Antonia and Hugh's sixth whodunit again wraps an intelligent mystery in a warm cloak of delightfully arch dialogue."—Kirkus Reviews

"His sixth series title (after The Curious Incident at Claridge's) offers a twisted plot with unusual characters and clever dialog that will appeal to fans of Golden Age mysteries."—Library Journal

"Raichev clearly has a great deal of fun writing the books, giving these modern stories almost an Edwardian feel, and we're rewarded with finely drawn characters, clever murder mysteries, and dialogue that sparkles. Best recommended to fans of golden age authors (Christie, Sayers, et al.) who can tolerate a little modernity."—Booklist

Praise for R. T. Raichev:

"Antonia's third mystery deftly mixes dark humor and psychological suspense, its genteel surface masking delicious deviancy."—Kirkus Reviews, Starred Review

"Greed, jealousy, rampant emotions, and a killer lurk in the wings of this tale that mixes Henry James's psychological insight with Agatha Christie's whodunit plotting skills. Throw in a diabolically clever story line and the challenge to readers to figure out what is really going on, and Raichev once again triumphs in this totally fascinating game of wits. Highly recommended for all collections."—Library Journal, Starred Review

"Except for its modern-day setting, the book could have been published during Agatha Christie's heyday, the so-called Golden Age of detective fiction, and readers who relish that period will be delighted by Assassins at Ospreys."—Denver Post

Advertisement