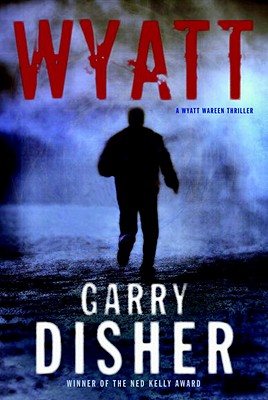 Wyatt (Hardcover)
Soho Crime, 9781569479629, 313pp.
Publication Date: August 9, 2011
Other Editions of This Title:
Paperback (7/17/2012)
* Individual store prices may vary.
Description
Garry Disher's cool, enigmatic anti-hero Wyatt has a job--a jewel heist. The kind Wyatt likes. Nothing extravagant, nothing greedy. Stake out the international courier, one Alain Le Page, hold up the goods in transit and get away fast.

Wyatt prefers to work alone, but this is Eddie Oberin's job. Eddie's very smart ex-wife Lydia has the inside information. Add Wyatt's planning genius and meticulous preparation, and what could possibly go wrong?

Plenty. And when you wrong Wyatt, you don't get to just walk away.

Taut plots, brilliant writing and relentless pace; plus an unforgettable cast, including the ever-elusive Wyatt himself: these are the hallmarks of Garry Disher's Wyatt series.
About the Author
Garry Disher is one of Australia's best-known novelists. He's published over 40 books in a range of genres, including crime, children's books, and Australian history. His Hal Challis crime series is also published in the US by Soho Crime. He lives on the Mornington Peninsula, southeast of Melbourne.
Praise For Wyatt…
"Like an Australian Bob le Flambeur, Disher's titular robber is smooth, calm and planning a big heist."
—Entertainment Weekly

"The first U.S. appearance of this series, and it's just brilliant."
—Seattle Times

"Once again Disher takes us back to the golden age of thrillers, a time when they were fast, taut and dependably suspenseful."
—Kirkus Reviews, Starred Review

"A jewel heist that appears straightforward proves anything but in Australian author Disher's outstanding seventh thriller featuring Melbourne bank robber Wyatt Wareen, last seen in 1997's The Fallout.... The spare, economical prose perfectly suits this tale of mad love and crimes gone wrong ... and should boost the reputation of Disher, winner of Australia's Ned Kelly Award, in the U.S."
—Publishers Weekly, Starred Review

"Wyatt Wareen has been away for awhile, but he's back in Melbourne and looking for a score.... Disher also writes the excellent Inspector Hal Challis procedurals (Chain of Evidence, 2007), but a new Wyatt novel—we've described the series as "criminal procedurals" (Kick Back, 1993)—is cause for celebration. Though the ensemble cast is sharply drawn, the heart of the story is Wyatt, a cool-headed, taciturn, unsentimental thief with a code ... Wyatt may be a man out of time, but crime fiction like this is timeless.
—Booklist, Starred Review

"Disher's depiction of Melbourne's underworld is a revelation—undeniably lurid and harsh yet humming with a vibrancy that lends a soulful note to the story. In his first Wyatt thriller in 13 years, Disher, author of the Hal Challis police procedurals (The Dragon Man; Blood Moon) excels at capturing the complexity and tension of life on the run, and his characters exude a visceral energy as they compete to survive. Highly recommended for readers who enjoy atmospheric, character-driven crime thrillers."
—Library Journal, Starred Review

"I've read my way across the landscape of caper novels. Somehow, though, I missed Australia, particularly Garry Disher's series with thief Wyatt. Thankfully, that has now been remedied. Although Wyatt is Disher's seventh featuring his inscrutable hero, it was a terrific place to start."
—Milwaukee Journal-Sentinel

"The plot is solid, pacing excellent, and the characterization first-rate. Fans of Barry Eisler and Ted Bell should also appreciate Disher."
—ForeWord Reviews

"If you want an armchair trip to Australia, try this cool caper.... Readers familiar with Garry Disher's procedural series featuring Hal Challis will recognize the author's straightforward style and his ability to create an ensemble cast of three-dimensional characters with a few deft strokes."
—Mystery Scene

"If you've read Ripley you'll understand..."
—Jeff Park, Front Row (BBC)
or
Not Currently Available for Direct Purchase