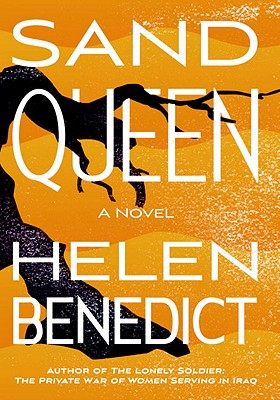 Sand Queen (Hardcover)
Soho Press, 9781569479667, 315pp.
Publication Date: August 2, 2011
Other Editions of This Title:
Digital Audiobook (7/31/2013)
Paperback (7/31/2012)
Compact Disc (8/1/2013)
Compact Disc (8/1/2013)
* Individual store prices may vary.
Description
Nineteen-year-old Kate Brady joined the army to bring honor to her family and to the Middle East. Instead, she finds herself in a forgotten corner of the Iraq desert in 2003, guarding a makeshift American prison. There, Kate meets Naema Jassim, an Iraqi medical student whose father and little brother have been detained in the camp.
Kate and Naema promise to help each other, but the war soon strains their intentions. Like any soldier, Kate must face the daily threats of combat duty, but as a woman, she is in equal danger from the predatory men in her unit. Naema suffers bombs, starvation, and the loss of her home and family. As the two women struggle to survive and hold on to the people they love, each comes to have a drastic and unforeseeable effect on the other's life.
Culled from real life experiences of female soldiers and Iraqis, Sand Queen offers a story of hope, courage and struggle from the rare perspective of women at war.
About the Author
Helen Benedict, a Columbia University professor, has written four previous novels, five nonfiction books, and a play. Her novels have received citations for best book of the year from the Los Angeles Times and the Chicago and New York Public Libraries.
Praise For Sand Queen…
Praise for Sand Queen:

"This is The Things They Carried for women in Iraq ... feels right and true."—Boston Globe

"[A] thrilling and thoughtful new novel . . . [Kate] is a character readers won't soon forget."—Publishers Weekly

"Funny, shocking, painful, and, at times, deeply disturbing, Sand Queen takes readers beyond the news and onto the battlefield."—Booklist

"This bleak novel explores the horrendous impact of the Iraq war on women, both soldiers and civilians ... [an] unforgettable testament."—Kirkus Reviews

"An eye-opening glimpse into a life that many Americans have never seen."—Library Journal

"Told in compellingly vivid detail with the clear ring of truth every step of the way."—Free-Lance Star

"If you missed out on serving in the Iraq War, you can, if you're willing, be catapulted right into the midst of some of its more challenging moments courtesy of Ms. Benedict's gutsy prose. Her interviews with over 40 female veterans show up as action flow and dialogue in Sand Queen, a novel that will leave you deeply unsettled if not shaken to the root of your being."—The Herald-Dispatch

"Every war eventually yields works of art which transcend politics and history and illuminate our shared humanity.  Helen Benedict's brilliant new novel has done just that with this century's American war in Iraq.  Sand Queen is an important book by one our finest literary artists."—Robert Olen Butler 

"Helen Benedict's compelling story provides an intimate picture of what it means to be a soldier, what it's like to live on the battlefield, and what the ethical choices are that our troops have had to make in Iraq. Benedict tells her story from two perspectives—that of a young American woman—a soldier—and a young Iraqi woman—a medical student—both of whose worlds are ravaged by the war. At times funny, at times grimly painful, Sand Queen offers a new chapter in contemporary American history."—Roxana Robinson, author of Cost and Sweetwater

"Every American who claims to value the lives of our soldiers should read this powerful, harrowing, and revelatory novel."—Valerie Martin, author of Trespass

"Ms. Benedict pulls off this audacious gambit because she is an exceptional writer and storyteller. Her gritty depiction of a soldier's life in the Iraq desert is particularly well done. Sand Queen is powerful precisely because Helen Benedict is so pissed off."—New York Journal of Books

"A convincing and affecting portrait of two resilient young women caught up in war."—Shelf Awareness

"In writing what might be the first major woman's war story and alternating points of view between opposing sides, Columbia professor Helen Benedict has created something enormously fresh and immediate on this sadly ancient topic."—Chronogram.com


Praise for the work of Helen Benedict:

"A stunning chronicle of abuses suffered by women enlisted in the U.S. Army and serving in Iraq."—Los Angeles Times

"Benedict, an author of both fiction and nonfiction (Sailor's Wife; Virgin or Vamp), offers distinctive cross-cultural insights as well as a cadre of satiric and fascinating characters, and the result is a story that is both touching and humorous. Highly recommended."—Library Journal
 
"Benedict offers an engaging, lush portrait of envy, desire, and the insatiable lure of the exotic and unknown."—Booklist
 
"An armchair traveler's delight, Benedict's novel is an amusingly poignant look at the British abroad in the spirit of Evelyn Waugh."—Publishers Weekly
 
"There's plenty of sin in Eden...."—Kirkus Reviews

"A comedy of bad manners reminiscent of Evelyn Waugh."—New York Daily News

"Benedict has written a novel lush with exoticism yet rooted, finally, in the common experience of what it is to love."—Women's Review of Books

 "[The Edge of Eden] reads as though it could have been written in the early 20th century, right alongside of the work of Evelyn Waugh and W. Somerset Maugham... [a] dangerous, mesmerizing tale."—Cleveland Plain-Dealer

"The Lonely Soldier is an important book, a crucial accounting of the shameful war on women who gave their bodies, lives and souls for their country."─Eve Ensler, author of The Vagina Monologues
 
"A beautifully written novel by a most entertaining and accomplished writer... compelling, intelligent, insightful."—Oscar Hijuelos, author of The Mambo Kings Play Songs of Love
or
Not Currently Available for Direct Purchase