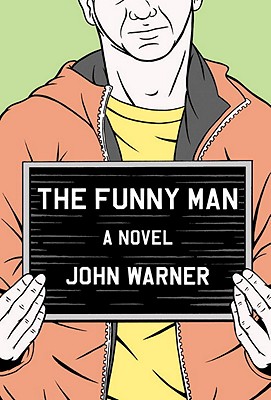 The Funny Man
Hardcover

* Individual store prices may vary.
Other Editions of This Title:
Compact Disc (9/27/2011)
Paperback (9/25/2012)
Description
The funny man is a middling comic in an unnamed city. By day he takes care of his infant son, by night he performs in small clubs, sandwiched between other aspiring comics. His wife waits tables to support the family. It doesn't sound like much, but they're happy, more or less. Until the day he comes up with it. His thing. His gimmick. And everything changes. He's a headliner, and the venues get bigger fast. Pretty soon it's Hollywood and a starring role in a blockbuster, all thanks to the gimmick.
 
Which is: He performs with his fist in his mouth to the wrist. Jokes, impressions, commercials—all with his fist in his mouth to the wrist. The people want him—are crazy for him—but only with his fist in his mouth.
 
And the funny man, he is tired of having his fist in his mouth.
 
Thus, as the novel begins, his career's in tatters, his family's left him, and he's on trial for shooting an unarmed man six times. But for the second time in his life, against all odds, he's found love. This time with another celebrity, who may or may not be sending him coded messages, and may or may not be equally in love—or even know he exists. A coruscating satire of our culture of celebrity, this debut novel documents one individual's slide from everyman to monster, even as it reveals the potential for grace—and mercy—in his life.
Praise For The Funny Man…
"John Warner is an uncommonly funny and gifted writer who has managed to make the business of comedy actually funny, as opposed to the awful self-negating mess that it actually is (I may only be speaking from personal experience on this last point.) This book will make you laugh and think and laugh some more."—Michael Ian Black

"John Warner's The Funny Man is a funny novel about a funny man who sticks his whole hand in his mouth in a funny way. But it's much more than that—a wise, rueful, surprisingly tender book about what happens when we get what we want, and then what happens when we keep on wanting things. A very American novel, in other words, a novel that reminds me of Walker Percy's and Saul Bellow's very American novels. I can think of no higher praise for a novel, and The Funny Man deserves it."—Brock Clarke, author of Exley and An Arsonist's Guide to Writers' Homes in New England

"I'm not at all surprised that John Warner would invent the perfect Everyman for our age: a comic whose meteoric rise to fame is based on a stupid gimmick. Half first-person tell-all, half third-person takedown—a brilliant structure—The Funny Man is a whip-smart satire of celebrity culture. It is hysterical, and sad, and ultimately indicts us all. An excellent novel."—Jessica Francis Kane, author of The Report

"What people will do for fame never looked so bad, or conceivable. John Warner tips celebrity culture a few degrees toward the absurd, and out falls a human, dying from a joke. The Funny Man shows us what blooms in the shadows of the paparazzi's flashbulbs—nothing pretty, but true and damn amusing."—Rosecrans Baldwin, author of You Lost Me There

"An illuminating satire…a sharply focused lampoon of the escalating absurdity of the newest virulent strains of celebrity culture—as the story's funny man straddles a deeply conflicted persona reminding us that comedy is after all, no joke."—The Daily Beast

"Darkly funny.... [Warner] peppers his book with clever asides that themselves could serve as stand-up bits.... But these serve more as comic relief to the book's provocative theme of being careful what you wish for.... The last third of the book is ambiguous, but serves as a meditation on therapy, the afterlife, and connecting with a kindred spirit. It works because like the rest of the novel, it's the biting social commentary that Warner is going for, not wrapping things up in a bow."—Splitsider

"America's favorite comedian is on trial for manslaughter, and 'the funny man''s lawyer, Barry, has a unique defense: not guilty by way of celebrity.... [An] equally sickening and humorous portrait of the celebrity as a delusional man."—Publisher's Weekly

"In his first novel, Warner skewers the culture of celebrity.... Not guilty by reason of celebrity (hey, it worked for Rob Lowe and Charlie Sheen). The funny man's fall is precipitous, yet in the midst of it, he manages to find love again with (who else?) another celebrity ... a clever premise."—Booklist

"The Funny Man joins a short list of intelligent, dark comedies about self-loathing main characters whose success is built on the poor taste and/or low IQ of the American public. In so doing, Mr. Warner follows the path of authors like Chris Buckley and Randall Silvis, but he is darker than the former and funnier than the latter. Regardless of the company he keeps, The Funny Man puts John Warner among the most perceptive and edgy chroniclers of an increasingly coarse American culture."—New York Journal of Books
Soho Press, 9781569479735, 284pp.
Publication Date: September 27, 2011
About the Author
John Warner is the managing editor of McSweeney's Internet Tendency. His book, "My First Presidentiary: A Scrapbook of George W. Bush "(with Kevin Guilfoile) was a number one "Washington Post" bestseller. John is also the editor of three volumes of material culled from the website, "Created in Darkness by Troubled Americans; Mountain Man Dance Moves: The McSweeney's Book of Lists"; and "The McSweeney's Joke Book of Book Jokes." Warner teaches at Clemson University in South Carolina and is a consulting editor to the "South Carolina Review."
or
Not Currently Available for Direct Purchase