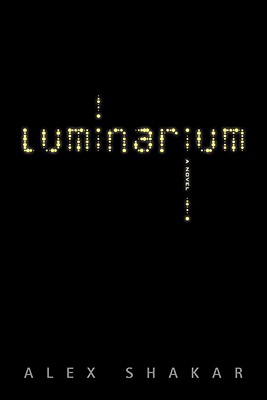 Luminarium
Hardcover

* Individual store prices may vary.
Other Editions of This Title:
Digital Audiobook (8/31/2011)
Paperback (5/8/2012)
MP3 CD (9/1/2011)
Compact Disc (9/1/2011)
Description
Winner of the Los Angeles Times Book Prize for Fiction. "Heady and engrossing ... Shakar is such an engaging writer, bringing rich complications to the narrative.... At times, Luminarium reads like a Christopher Nolan or Wachowski brothers movie as scripted by Don DeLillo."--The New York Times Book Review

Fred Brounian and his twin brother, George, were once co-CEOs of a burgeoning New York City software company devoted to the creation of utopian virtual worlds. Now, in the summer of 2006, as two wars rage and the fifth anniversary of 9/11 approaches, George has fallen into a coma, control of the company has been wrenched away by a military contracting conglomerate, and Fred has moved back in with his parents. Broke and alone, he's led by an attractive woman, Mira, into a neurological study promising to give him "peak" experiences and a newfound spiritual outlook on life. As the study progresses, lines between the subject and the experimenter blur, and reality becomes increasingly porous. Meanwhile, Fred finds himself caught up in what seems at first a cruel prank: a series of bizarre emails and texts that purport to be from his comatose brother. Moving between the research hospitals of Manhattan, the streets of a meticulously planned Florida city, the neighborhoods of Brooklyn and the uncanny, immersive worlds of urban disaster simulation; threading through military listserv geek-speak, Hindu cosmology, the maxims of outmoded self-help books and the latest neuroscientific breakthroughs, Luminarium is a brilliant examination of the way we live now, a novel that's as much about the role technology and spirituality play in shaping our reality as it is about the undying bond between brothers, and the redemptive possibilities of love.
Praise For Luminarium…
Winner of the Los Angeles Times Book Prize for Fiction.

"Heady and engrossing ... Shakar is such an engaging writer, bringing rich complications to the narrative.... At times, Luminarium reads like a Christopher Nolan or Wachowski brothers movie as scripted by Don DeLillo."—The New York Times Book Review
"A brilliant book dogged in its pursuit of disassembling human experience in hopes of finding the essence, or at least an astoundingly prismatic view."—Los Angeles Times
"A strikingly metaphysical novel that never dematerializes into misty cliches, a book to challenge the mystic and the doubter alike."—Ron Charles, Washington Post

"Something like an adult version of 'Sophie's World' for readers clicking between 'Mortal Kombat' and Immanuel Kant, Shakar's metaphysical novel explores different facets of belief and the manipulation of consciousness." —Washington Post, "Notable Fiction of 2011"

"As Shakar suggests in the book, maybe the whole universe is one big computer game and we are all bit players plotting a course through the multiple parallel realities this adventure-seeking void generates. It's a fascinating idea on which to hinge this worthy novel."—Seattle Times
"Luminarium is dizzyingly smart and provocative, exploring as it does the state of the present, of technology, of what is real and what is ephemeral. But the thing that separates Luminarium from other books that discuss avatars, virtual reality and the like is that Alex Shakar is committed throughout with trying, relentlessly, to flat-out explain the meaning of life. This book is funny, and soulful, and very sad, but so intellectually invigorating that you'll want to read it twice."—Dave Eggers

"This fascinating, hilarious novel, though set in the past, is the story of the future: technology has outlapped us, reality is blinking on and off like a bad wireless connection,  the ones we love are nearby in one sense, but far away in another. Yet at the book's galloping heart, it's the story of what one man is willing to go through to find—in our crowded, second-rate space—something like faith. This novel is sharp, original, and full of energy—obviously the work of a brilliant mind."—Deb Olin Unferth, author of Revolution

"Illusion is the substance of Luminarium, and worlds coming apart, though quietly, like the way Fred Brounian's comatose twin brother starts sending him emails from the Hindu hell of flawed angels. For all the collapsing bardos, there is a kindness that infuses this deeply engaging book."—Zachary Mason, author of The Lost Books of the Odyssey
"I got the sensation that the book was expanding, encapsulating so much of what so many novels have tried to do in the past few years, both consuming and furthering the zeitgeist…a beautifully written big-questions novel."—Time Out Chicago (Five star review)
 
"Shakar is a flesh-and-blood, intensely intelligent writer."—Chicago Reader
 
"Encompassing, caring, provocative, and funny, Shakar's novel astutely dramatizes moral and spiritual dilemmas catalyzed by the frenetic post-9/11 cyber age, while love, as it always has, blossoms among the ruins."—Chicago Tribune
 
"Luminarium is a crashing and rainy light-show that makes us vulnerable and scared, but also invigorated and, dare I say, hopeful."—BOMBlog
 
"[A] wonderfully corrosive satire."—Vogue.com

"[A] penetrating look at the uneasy intersection of technology and spirituality…Shakar's blend of the business of cyberspace and the science of enlightenment distinguishes the novel as original and intrepid…Shakar's prose is sharp and hilarious, engendering the reader's faith in the novel's philosophical ambitions. Part Philip K. Dick, part Jonathan Franzen, this radiant work leads you from the unreal to the real so convincingly that you begin to let go of the distinction."—Publishers Weekly, Starred Review

Editor's Choice Award 2011 —Booklist

"In his long-awaited second novel after the razor-sharp The Savage Girl (2001), Shakar takes measure of our post-9/11 existential confusion in a technology-avid but sciencephobic, 'ever-complexifying world.' A radiantly imaginative social critic, Shakar is also a knowledgeable and intrepid explorer of metaphysical and neurological mysteries. With beguiling characters trapped in ludicrous and revelatory predicaments, this is a cosmic, incisively funny kaleidoscopic tale of loss, chaos, and yearning."—Booklist, Starred Review
"Luminarium is ... one of the most exciting and bracing books I've read this year, because it has the guts to ask questions—and even venture some answers—regarding issues most contemporary American fiction won't touch."—Milwaukee Journal-Sentinel
"Virtual and 'real' reality intertwine in unpredictable ways in this ingenious novel; to his credit, Shakar's approach is more philosophical than sci-fi ... Shakar succeeds in a delicate balancing act here, securing the novel simultaneously (and paradoxically) in real, virtual and supernatural worlds."—Kirkus Reviews
"Luminarium is a sprawling, brilliant look at the globally interconnected world we live in, and the protagonist, Fred Brounian, is a wonderful guide to it — a lovable Eeyore of a guy just trying to find a few answers (or at least figure out the right questions). I loved this one—maybe last year's most ambitious novel, and certainly one of the strangest." -Flavorwire

"If contemporary fiction has been striking you as a little too 'lite,' take a look at Luminarium."
—Washington Post (Included in "My Favorite Novels of 2011" on Style Blog

"The Year in Books" selection. —Austin Chronicle


Praise for Alex Shakar and The Savage Girl:
 
"An exceptionally smart and likeable first novel that tries valiantly to ransom beauty from its commercial captors."—Jonathan Franzen

"It's exciting to meet a new novelist who's not afraid of heights."—The New York Times Book Review, a Notable Book of 2001
 
"The most sensitive, observant, and shrewdest writers are preternaturally attuned to the undercurrents that twist and warp society, and Shakar, a seer with extraordinary literary skills and a piquant sense of humor, will join the ranks of George Orwell, Aldous Huxley, and Tom Wolfe."—Chicago Tribune
Soho Press, 9781569479759, 432pp.
Publication Date: August 23, 2011
About the Author
Alex Shakar's novel The Savage Girl (HarperCollins, 2001) was selected as a New York Times Notable Book and a Booksense 76 Pick, and has been translated into six foreign languages. His story collection City in Love (HarperCollins, 2002) was selected as an Independent Presses Editors Pick of the Year. A native of Brooklyn, NY, he currently lives in Chicago with his wife, the composer Olivia Block.
or
Not Currently Available for Direct Purchase