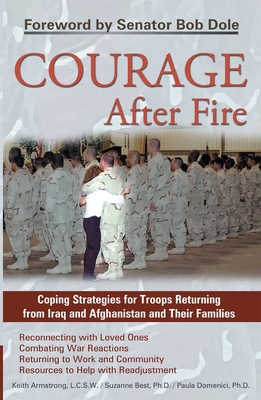 Courage After Fire (Paperback)
Coping Strategies for Troops Returning from Iraq and Afghanistan and Their Families
Ulysses Press, 9781569755136, 280pp.
Publication Date: December 12, 2005
Other Editions of This Title:
Paperback (9/1/2010)
* Individual store prices may vary.
Description
The bravery displayed by our soldiers at war is commonly recognized. However, often forgotten is the courage required by veterans when they return home and suddenly face reintegration into their families, workplaces, and communities. Authored by three mental health professionals with many years of experience counseling veterans, Courage After Fire provides strategies and techniques for this challenging journey home.
Courage After Fire offers soldiers and their families a comprehensive guide to dealing with the all-too-common repercussions of combat duty, including posttraumatic stress symptoms, anxiety, depression, and substance abuse. It details state-of-the-art treatments for these difficulties and outlines specific ways to improve couple and family relationships. It also offers tips on areas such as rejoining the workforce and reconnecting with children.

"A crucial tool for the men and women who have been serving our country so VALIANTLY during these past years."
—Senator Bob Dole, from the foreword

"This extraordinary work will help the men and women returning from Iraq and Afghanistan find the COURAGE to rebuild their lives and be successful." —Honorable Anthony J. Principi, Former Secretary of Veterans Affairs
About the Author
Keith Armstrong, L.C.S.W., is an Associate Clinical Professor, Department of Psychiatry, University of California, San Francisco and the Director of Couples and Family Therapy and member of the Post-traumatic Stress Disorder Program at the San Francisco Department of Veterans Affairs Medical Center. He has made numerous television and radio appearances as well as interviews in newspaper articles discussing treatment of war stress including PTSD. Mr. Armstrong was utilized as a PTSD expert on a nationally televised show on the History Channel and recently interviewed by Swiss Public Radio about returning veterans who served in Afghanistan and Iraq. He has authored articles and chapters on debriefing after trauma and on the treatment of couples when one person has a diagnosis of PTSD. In 2000, 2003 and 2004 Mr. Armstrong won UCSF Residents Department of Psychiatry award for excellence in teaching. Dr. Suzanne Best is a Staff Psychologist at the University of California, San Francisco and the Senior Research Psychologist of the Posttraumatic Stress Disorder Research Program at the San Francisco VA Medical Center. In her 9 years with the PTSD Research Program, she has directed numerous studies of combat veterans, has developed detailed veteran assessment batteries and has conducted over 100 in-depth assessments of military veterans. She has co-authored numerous articles on trauma and PTSD in civilian and military personnel. Currently Dr. Best is engaged in developing manualized cognitive behavioral treatments for Vietnam, Iraq and Afghanistan veterans and is responsible for the training and supervision of all clinicians providing this treatment to these veterans. She has recently spoken at meetings and conferences of police psychologists and police and fire administrators on issues surrounding the readjustment of returning Iraq reservists who are employed in emergency services. In addition she has a clinical practice in San Francisco where she specializes in treating emergency services personnel and civilian victims of trauma and conducts privately retained forensic evaluations of traumatized individuals. Dr. Paula Domenici, is a Staff Psychologist on the Posttraumatic Stress Disorder Program at the San Francisco Department of Veterans Affairs Medical Center. She is developing the clinical program for recently returning veterans from Iraq and Afghanistan and presently coordinates the mental health triaging for this group of veterans. She has been interviewed by the press about the status and treatment of newly returning veterans from Afghanistan and Iraq. Dr. Domenici also spearheads the support program for partners and spouses of veterans diagnosed with PTSD, in addition to organizing group therapies offered by the PTSD Program. She is in the process of becoming a Clinical Instructor in the Department of Psychiatry, University of California, San Francisco.
or
Not Currently Available for Direct Purchase