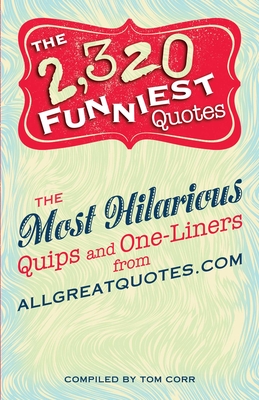 The 2,320 Funniest Quotes
The Most Hilarious Quips and One-Liners from allgreatquotes.com
Paperback

* Individual store prices may vary.
Description
Uncover the funniest quotes of all time with this mammoth book packed with quotations from comedians, celebrities, leaders and famous authors.

Presenting the best of the best from AllGreatQuotes.com, this uproarious volume features gems on every topic, from sex and money to spouses and politics. Bringing together clever remarks from celebrities, politicians, thinkers, comedians and generally funny people, this collection of snappy quotes will leave you in hysterics.

• God gave man a penis and a brain, but not enough blood to use both at the same time. — Robin Williams

• Money can't buy you happiness, but it does bring you a more pleasant form of misery. — Spike Milligan

• Some cause happiness wherever they go; others whenever they go. — Oscar Wilde

• The answers to life's problems aren't at the bottom of a bottle, they're on TV! — Homer Simpson

• When I eventually met Mr. Right, I had no idea that his first name was "Always." — Rita Rudner

• Happiness is having a large, loving, caring, close-knit family in another city. — George Burns
Ulysses Press, 9781569759752, 384pp.
Publication Date: August 16, 2011
About the Author
Tom Corr is a web publisher, journalist and former regional newspaper editor living in Ireland. He has worked for Ireland's Independent News & Media and UK-based Johnston Press. He operates one of the world's most visited quotes sites, www.allgreatquotes.com, which inspires 3 million visitors monthly.
or
Not Currently Available for Direct Purchase