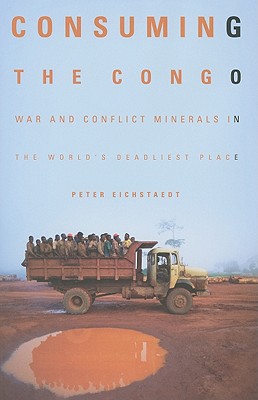 Consuming the Congo (Hardcover)
War and Conflict Minerals in the World's Deadliest Place
Lawrence Hill Books, 9781569763100, 272pp.
Publication Date: July 1, 2011
Other Editions of This Title:
Paperback (10/1/2016)
* Individual store prices may vary.
Description
Every time you use a cell phone or log on to a computer, you could be contributing to the death toll in the bloodiest, most violent region in the world: the eastern Congo. Rich in "conflict minerals"--valuable resources mined in the midst of armed conflict and egregious human rights abuses--this remote and lawless land is home to deposits of gold and diamonds as well as coltan, tin, and tungsten, all critical to cell phones, computers, and other popular electronics.
In Consuming the Congo, veteran journalist and author Peter Eichstaedt goes into these killing fields to find what is behind the bloodshed, hearing the stories of those who live this nightmarish reality. He talks with survivors of villages decimated by war and miners slogging knee-deep in muck, desperately digging up the gold, tin, and coltan on which Western culture depends. While these men work with picks, shovels, and iron bars, marauding militias and renegade army units who control the mines roam the jungles, killing and raping with impunity, taking their profits, and leaving villagers to a life of grueling manual labor, brutality, and disease.
Some five million Congolese have died unnecessarily, the worst loss of human life since World War II, yet the pillaging and bloodletting continue at a frightening pace. Consuming the Congo not only explores the violence suffered by the Congolese but also examines how we, as part of the problem, can become part of the solution.
About the Author
Peter Eichstaedt is a veteran journalist and author dedicated revealing the stories behind human rights abuses. Formerly senior editor for Uganda Radio Network and Africa editor for the Institute of War and Peace in Reporting in The Hague, Eichstaedt traveled extensively in Africa to cover war crimes and trials. He won the 2010 Colorado Book Award for history for his book First Kill Your Family: Child Soldiers of Uganda and the Lord's Resistance Army and is the author of If You Poison Us: Uranium and Native Americans and Pirate State: Inside Somalia's Terrorism at Sea. He makes his home base near Denver, Colorado, and is currently on assignment in Kabul, Afghanistan.
Praise For Consuming the Congo: War and Conflict Minerals in the World's Deadliest Place…
"A powerful and long-overdue expose of greed and violence in the battle over Africa's mineral wealth. . . .  A harrowing and important work that shows yet again that far-flung conflicts touch closer to home that we may imagine."—Greg Campbell, author of Blood Diamonds: Tracing the Deadly Path of the World's Most Precious Stones
"An exceptional book that opens up the complicated and brutal reality of life in the Democratic Republic of Congo.  By explaining and connecting the violence that occurs on the ground to the products it facilitates, Eichstaedt serves up a devastating global insight into the perpetuation of violence in the DRC." —Sarnata Reynolds, Amnesty International USA
"Eichstaedt provides counterpoint and a glimmer of hope in the form of possible reforms and legislations that could restore order to a devastated region."
—Publishers Weekly
or
Not Currently Available for Direct Purchase