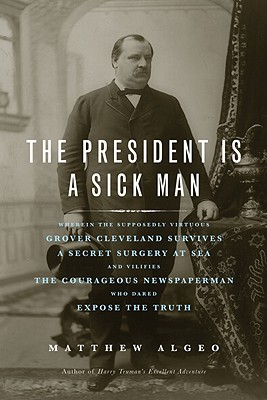 The President Is a Sick Man
Wherein the Supposedly Virtuous Grover Cleveland Survives a Secret Surgery at Sea and Vilifies the Courageous Newspaperman Who Dared Expose the Truth
Hardcover

* Individual store prices may vary.
Other Editions of This Title:
Paperback (9/1/2012)
Description
On July 1, 1893, President Grover Cleveland vanished. He boarded a friend's yacht, sailed into the calm blue waters of Long Island Sound, and--poof!--disappeared. He would not be heard from again for five days. What happened during those five days, and in the days and weeks that followed, was so incredible that, even when the truth was finally revealed, many Americans simply would not believe it.
The President Is a Sick Man details an extraordinary but almost unknown chapter in American history: Grover Cleveland's secret cancer surgery and the brazen political cover-up by a politician whose most memorable quote was "Tell the truth." When an enterprising reporter named E. J. Edwards exposed the secret operation, Cleveland denied it. The public believed the "Honest President," and Edwards was dismissed as "a disgrace to journalism." The facts concerning the disappearance of Grover Cleveland that summer were so well concealed that even more than a century later a full and fair account has never been published. Until now.
Praise For The President Is a Sick Man: Wherein the Supposedly Virtuous Grover Cleveland Survives a Secret Surgery at Sea and Vilifies the Courageous Newspaperman Who Dared Expose the Truth…
"Riveting and engrossing as the best detective novel, The President Is a Sick Man is an exceedingly well-documented and overdue account of one of the great presidential cover-ups of all time." —James McGrath Morris, author of Pulitzer: A Life in Politics, Print, and Power
"In seemingly effortless prose, Matthew Algeo tells the intricate story of one of the most unusual operations in American history. . . . Delightfully entertaining and informative." —Mary Cappello, author of Swallow: Foreign Bodies, Their Ingestion, Inspiration and the Curious Doctor Who Extracted Them
"[A] brilliantly written historical perspective . . . . Readers will be fascinated by this must read for anyone interested in presidential medical history." —
Dr. Connie Mariano, White House Doctor (1992–2001), author of The White House Doctor

"Author Matthew Algeo takes a little known part of presidential history and creates a page-turning ride in The President Is a Sick Man." —The Associated Press



"The President Is a Sick Man is a lively, cautionary tale—and one with a lesson for leaders that recalls Cleveland's own words of wisdom: Tell the truth." —The Wall Street Journal

"Algeo paints a colorful portrait of political intrigue and journalism during the Gilded Age." —Publishers Weekly

"Recommended for those who enjoy popular presidential histories and biographies, the history of U.S. newspaper reporting, and popular medical nonfiction." —Library Journal



"Algeo is a determined researcher and fine stylist, and the story of presidential illness serves as an effective connecting thread through a somewhat broader account of the United States during the hard economic times of the 1890s. A memorable lesson in how journalists can dig out the truths beneath official lies." —Kirkus Reviews
Chicago Review Press, 9781569763506, 272pp.
Publication Date: May 1, 2011
About the Author
Matthew Algeo is a public radio reporter. He is the author of Harry Truman's Excellent Adventure: The True Story of a Great American Road Trip, which was one of the Washington Post's Best Books of 2009, and Last Team Standing: How the Steelers and the Eagles--"The Steagles"--Saved Pro Football During World War II, which won the 2006 Nelson Ross Award for best pro football historiography.
Coverage from NPR
or
Not Currently Available for Direct Purchase