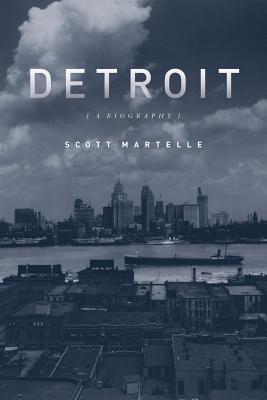 Detroit: A Biography (Hardcover)
A Biography
Chicago Review Press, 9781569765265, 288pp.
Publication Date: April 1, 2012
* Individual store prices may vary.
or
Not Currently Available for Direct Purchase
Description
Detroit was established as a French settlement three-quarters of a century before the founding of this nation. A remote outpost built to protect trapping interests, it grew as agriculture expanded on the new frontier. Its industry took a great leap forward with the completion of the Erie Canal, which opened up the Great Lakes to the East Coast. Surrounded by untapped natural resources, Detroit turned iron from the Mesabi Range into stoves and railcars, and eventually cars by the millions. This vibrant commercial hub attracted businessmen and labor organizers, European immigrants and African Americans from the rural South. At its mid-20th-century heyday, one in six American jobs were connected to the auto industry, its epicenter in Detroit. And then the bottom fell out. "Detroit"" A Biography" takes a long, unflinching look at the evolution of one of America's great cities, and one of the nation's greatest urban failures. It tells how the city grew to become the heart of American industry and how its utter collapse from 1.8 million residents in 1950 to 714,000 only six decades later resulted from a confluence of public policies, private industry decisions, and deep, thick seams of racism. And it raises the question: when we look at modern-day Detroit, are we looking at the ghost of America's industrial past or its future?
About the Author
Scott Martelle, the author of "The Fear Within" and "Blood Passion," is a veteran journalist and former staff writer for the "Los Angeles Times" and the" Detroit News," whose work has also appeared in the" Washington Post," "Sierra" magazine, and other outlets.
Praise For Detroit: A Biography…
"Scott Martelle has the rare ability to bring alive a patch of history from several hundred years ago as skillfully as he does a present-day Detroiter in his living room. This is an extraordinary riches-to-rags story that raises big questions for national policy."  —Adam Hochschild, author of To End All Wars: A Story of Loyalty and Rebellion, 1914-1918


"The world can learn much from this bittersweet history of urban grit and strength that has now become a 21st-century symbol for industry, loss, and renewal." —M. L. Liebler, award-winning Detroit poet and editor of Working Words: Punching the Clock and Kicking Out the Jams
 

"Detroit has played a crucial role in American urban, industrial, and ethnic history, today it is central to any discussion of the future of the nation's cities.  Scott Martelle has done a wonderful job of capturing the essence of Detroit from its early history on the Western Frontier to "Motor City" to today's urban crisis." —Dominic A. Pacyga, author of Chicago: A Biography


"[Detroit] offers an informative albeit depressing glimpse of the workings of a once-great city that is now a shell of its former self."—Publishers Weekly

"[Martelle's] unsentimental assessment is rich with cold, hard facts about those responsible for what Detroit became and what it is today." —Booklist


"A valuable biography sure to appeal to readers seeking to come to grips with important problems facing not just a city, but a country." —Kirkus


"This unsentimental assessment is rich with cold, hard facts about those responsible for what Detroit became and what it is today"—Booklist
Advertisement