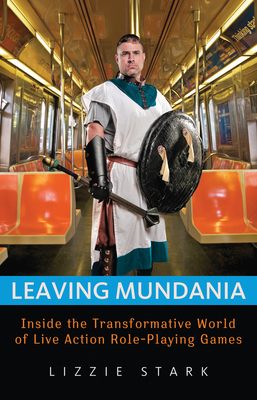 Leaving Mundania
Inside the Transformative World of Live Action Role-Playing Games
Paperback

* Individual store prices may vary.
Description
Exposing a subculture often dismissed as "geeky" by mainstream America, Leaving Mundania is the story of live action role-playing (LARP). A hybrid of games—such as Dungeons & Dragons, historical reenactment, fandom, and good old-fashioned pretend—larp is thriving, and this book explores its multifaceted communities and related phenomena, including the Society for Creative Anachronism, a medieval reenactment group that boasts more than 32,000 members. Author Lizzie Stark looks at the hobby from a variety of angles, from its history in the pageantry of Tudor England to its present use as a training tool for the US military. Along the way, she duels foes with foam-padded weapons, lets the great elder god Cthulhu destroy her parents' beach house, and endures an existential awakening in the high-art larp scene of Scandinavia.
Praise For Leaving Mundania: Inside the Transformative World of Live Action Role-Playing Games…
"Whether you thoroughly appreciate the work of
Buffy the Vampire Slayer
creator Joss Whedon [LARP's newly appointed overlord] or just have a mild interest in geek culture, Stark makes this world of pretend a little more real." —
BUST
"Lizzie Stark takes us down the rabbit hole and into the curiouser and curiouser world of larp and shows us a place where imagination lives and breathes. Enter if you dare . . . and enjoy the ride! It's an enlightening and wondrous journey." —Tracy Hickman, New York Times bestselling fantasy author and game designer
"Rarely does a book so deftly crack open the everyday world to reveal the riot of imagination within. With humor, intelligence, and more than a little bravery, Lizzie Stark guides us into the vast subculture of larping, where lawyers become vampire hunters and systems analysts turn into knights. Hilarious, honest, and enlightening, Leaving Mundania reminds us how thin the boundaries are between the roles we play and the selves we believe ourselves to be."  —Stacey Richter, Pushcart Prize-winning author of My Date With Satan, and Twin Study
"Lizzie Stark isn't afraid to walk the goblin walk, talk the in-character talk, wear the make-up, and wield the boffer sword. With verve, wit and candor, Leaving Mundania provides an important contribution to the history of role-playing and gaming, and proves the cultural significance of this flourishing game/performance/medium."  —Ethan Gilsdorf, author of Fantasy Freaks and Gaming Geeks: An Epic Quest for Reality Among Role Players, Online Gamers, and Other Dwellers of Imaginary Realms


"Lizzie Stark valiantly throws herself into the sword-swinging world of live-action role-playing games in Leaving Mundania."  —Vanity Fair


"A fascinating trip through the looking glass and into the subculture of larp. Stark gives us both the magic and the humanity of live-action make-believe. And as a social historian, she incisively points to a pop-culture trend on its way from the fringe toward the mainstream." —Samuel Freedman, author of The Inheritance and Letters to a Young Journalist


"Rich, unexpected and compelling . . . Stark's keen observational skills and crisp writing style successfully cut through those hackneyed stereotypes to reveal the very real people who are drawn to deeply imaginary worlds."—Kirkus Reviews

"A fascinating look at the world of live-action role playing-with a book jacket that slays me."—SchoolLibraryJournal.com
Chicago Review Press, 9781569766057, 272pp.
Publication Date: May 1, 2012
About the Author
Lizzie Stark is a freelance journalist whose work has appeared in the Daily Beast and the Philadelphia Inquirer. She is founder and editor of the literary journal Fringe and holds an MS in new media journalism from the Columbia University Graduate School of Journalism.