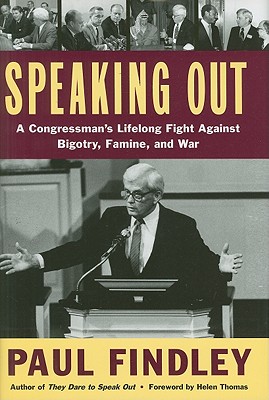 Speaking Out: A Congressman's Lifelong Fight Against Bigotry, Famine, and War (Hardcover)
A Congressman's Lifelong Fight Against Bigotry, Famine, and War
Lawrence Hill Books, 9781569766255, 330pp.
Publication Date: June 1, 2011
* Individual store prices may vary.
or
Not Currently Available for Direct Purchase
Description
In his twenty-two years as an Illinois congressman and in the years since he left office, Paul Findley has fought to eradicate famine, end wars, and eliminate bigotry in U.S. foreign policy. This sweeping political memoir opens with Findley's early days in rural Pittsfield, Illinois, and chronicles his service during six administrations in Washington. His many accomplishments in Congress include authoring the Famine Prevention Act, coauthoring the 1973 War Powers Resolution, leading agricultural trade missions to the Soviet Union and China, and strongly opposing the Vietnam War. This autobiography is also a no-holds-barred critique of Israel's lobby and its toll on the national interests of the United States. Few politicians are so openly critical of their government, and Findley's opinions on what he believes to be disastrous foreign policy provide a unique behind-the-scenes perspective on the shaping of these policies in the latter half of the twentieth century.
About the Author
Paul Findley served as a U.S. representative from Illinois from 1960 to 1982. He is the author of "Deliberate Deceptions: Facing" "the Facts About the U.S.Israeli Relationship," "Silent" "No" "More: " "Confronting America s False Images of Islam," and "They Dare to Speak Out."" "Helen Thomas is a former White House correspondent."
Praise For Speaking Out: A Congressman's Lifelong Fight Against Bigotry, Famine, and War…
There is a place in America called Findley Country.  Inspired by its founding father, the people who live there cherish principled politics, political courage, and speaking truth to power (even when it hurts).  Paul has given us a lively recollection of a robust and honorable life in public service, grounded in a patriot's devotion to the country he loves."  Bill Moyers 


Fascinating reading, from an engaging memoir of authentic Middle America to a distinguished career in Congress.  Findley throughout has been an independent thinker and courageous advocate [...] an impressive record and a lively and informative account."  Noam Chomsky
One of the most creative, indomitable advocates for international law, the end of wars, arms races, and famines. [. ..] Rare anywhere is that combination of moral determinism,  pioneering, practical proposals, and strong character to sweat the Big Stuff."
Ralph Nader
Paul Findley illustrates how interfaith relations is key to peace-making in the twenty-first century, with one central value to follow--justice.  Understanding his work will strengthen America for the future."
Salam Al Marayati, executive director of the Muslim Public Affairs Council
A must-read about a true American patriot. Paul Findley is one of those rare U.S. citizens in public life who is incorruptible, who stands up for what he believes.  It is this honorable trait that cost him reelection for a twelfth term. He dared to criticize and challenge Israel's criminal actions vis-à-vis Palestinians." Hedy Epstein, human rights activist and Holocaust survivor
Paul Findley's fascinating life story ends with a wakeup warning: Our government's subservience to Israel is costing America dearly." former Senator James Abourezk
Powerful lobby forces conspired to force him out of an influential career in Congress, only to have him surface again as a bestselling author and political activist, still fighting for justice and peace in the Middle East. In the words of Harvard professor Stephen Walt, Paul Findley  was there first.'" James M. Wall, former editor, Christian Century magazine
"
Speaking Out
is inspiring and informing, and should be read by all who seek a deeper understanding of the need for reform in U.S. foreign policy in the Middle East."  CNIonline.org (Council for the National Interest)
Advertisement