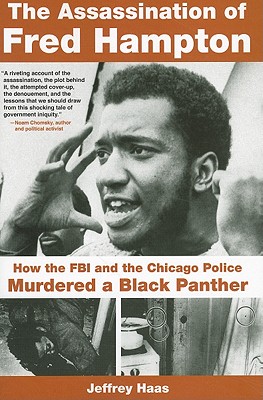 The Assassination of Fred Hampton (Paperback)
How the FBI and the Chicago Police Murdered a Black Panther
Lawrence Hill Books, 9781569767092, 384pp.
Publication Date: April 1, 2011
Other Editions of This Title:
MP3 CD (5/10/2016)
Hardcover (11/1/2009)
Compact Disc (10/1/2019)
* Individual store prices may vary.
Description
It's around 7:00 a.m. on December 4, 1969, and attorney Jeff Haas is in a police lockup in Chicago, interviewing Fred Hampton's fiancée. She is describing how the police pulled her from the room as Fred lay unconscious on their bed. She heard one officer say, "He's still alive." She then heard two shots. A second officer said, "He's good and dead now." She looks at Jeff and asks, "What can you do?"
The Assassination of Fred Hampton is Haas's personal account of how he and People's Law Office partner Flint Taylor pursued Hampton's assassins, ultimately prevailing over unlimited government resources and FBI conspiracy. Not only a story of justice delivered, the book puts Hampton in a new light as a dynamic community leader and an inspiration in the fight against injustice.
About the Author
Attorney Jeffrey Haas has spent his career working for justice. In 1969 he and three other lawyers set up the People's Law Office, whose clients included the Black Panthers, SDS, and other political activists. Haas went on to handle cases involving prisoners' rights, police torture, and the wrongfully accused. He continues to represent victims of police brutality.
Praise For The Assassination of Fred Hampton: How the FBI and the Chicago Police Murdered a Black Panther…
"[A] political cliff-hanger . . . The Assassination of Fred Hampton: How the FBI and the Chicago Police murdered a Black Panther is an exposé [that] should be read in schools across the country." --Huffington Post
"An extraordinary retelling of a shameful chapter in our history. . . . [The book] reveals just how easily justice can be thwarted and malicious aims diguised when powerful people conspire to violate the law (commit murder) and manipulate procedural to avoid responsibility for their crimes. . . . [A] cautionary tale, as well as a story of heroism." —Michelle Alexander, author of
The New Jim Crow: Mass Incarceration in the Age of Colorblindness
"Required political reading, especially for conservatives who are genuinely concerned about the damage secret government can do." --Chicago Daily Observer
"An extremely important book—and a tale well told—for America to read if
it wants to become what it says it has always been—the land of the free and the
home of the brave." —Ramsey Clark, former United States Attorney General
"A true crime story and legal thriller, this powerful account puts together all the pieces, step by step, giving us the anatomy of a despicable episode in recent American history. The writing is clear and straightforward; the overall impact devastating." —Phillip Lopate, author of Getting Personal
"At once journalist, lawyer and storyteller, Jeff Haas manages to sear into every
page of this book a compassion seemingly forgotten, providing a riveting
eyewitness account of the government assassination of Fred Hampton. This is
mandatory reading for those who love and believe in freedom." —Elaine Brown, author and former chairman of the Black Panther Party
"Part history, part courtroom drama, part literary memoir, Haas evokes with
chilling precision a bloody and desperate repressive state apparatus locked in
conflict with its greatest fear, a charismatic young black man with revolution on
his mind." —William Ayers, professor of education, University of Illinois at Chicago
"A must-read." —Len Weinglass, lawyer and civil rights activist
or
Not Currently Available for Direct Purchase