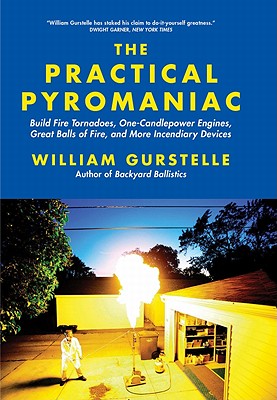 The Practical Pyromaniac
Build Fire Tornadoes, One-Candlepower Engines, Great Balls of Fire, and More Incendiary Devices
Paperback

* Individual store prices may vary.
Description
The Practical Pyromaniac combines science, history, and DIY pyrotechnics to explain humankind's most useful and paradoxical tool: fire. William Gurstelle, author of the bestselling Backyard Ballistics and frequent contributor to Popular Mechanics and Make magazine, presents 25 projects with instructions, diagrams, photos, and links to video demonstrations that enable people of all ages (including young enthusiasts with proper supervision) to explore and safely play with fire.
From Franklin's stove to Diesel's engine, Gurstelle tells the explosive and fascinating tales of the great American and European pyromaniacs who scientifically revealed the mysteries of fire. Among them are hot-headed "Gunpowder" Joseph Priestley, who discovered oxygen, and Antoine Lavoisier, the father of chemistry who lost his head on the guillotine, as well as scientist and spy Count Rumford and dapper Humphrey Davy whose chemical discoveries and fiery inventions saved thousands of lives.
With The Practical Pyromaniac in hand readers can replicate these breakthrough scientists' experiments and inventions, from the simply fascinating one-candle-power engine to the nearly magical fire piston and from a practical backpacker stove to an incredible tornado of fire.
Praise For The Practical Pyromaniac: Build Fire Tornadoes, One-Candlepower Engines, Great Balls of Fire, and More Incendiary Devices…
"What a fun, totally engrossing book! Gurstelle's projects—everything from a tiny single-candle engine to a flamethrower—are both easy to build and hard to resist. But along the way Gurstelle also weaves in a fascinating account of how the mysteries of fire were deciphered by some of history's greatest scientists. Think of The Practical Pyromaniac as a cookbook for the budding scientist in each of us." —James Meigs, editor in chief of Popular Mechanics

"If only I had had a reference like William Gurstelle's terrific [book] ... provides no-nonsense walkthroughs of a host of excellent, intriguing and magical experiments (with plenty of very sage safety talk and advice)."  —Mythbusters' Adam Savage in his review for The Wall Street Journal


"William Gustelle is the bomb—as well as the blowtorch, the catapult, the guided missile, and now the fire tornado. His enthusiasm for just-shy-of-catastrophic chemistry is infectious and inspiring, and once again he's proven that science can be bold, captivating, and fun for all." —Thomas Goetz, executive editor of Wired and author of The Decision Tree

"A recipe book packed with fun (and safe) fire projects, fit for science geeks, garage experimenters and casual weekend flame-throwers."  —MSNBC.com

"When the zombie apocalypse comes, I want William Gurstelle's books in my survival bunker. The Practical Pyromaniac delivers the history, science, and practical know-how needed to play safely with, and truly understand, Prometheus's gift. To quote Beavis: 'Fire. Heh. Heh. Fire!'" —Ken Denmead, publisher of GeekDad.com and author of Geek Dad: Awesomely Geeky Projects and Activities for Dads and Kids to Share

"This book isn't just playtime for pyros ... [it is] full of cool things to build, sure enough, but it's also an educational and entertaining trip back through the history of science. This one deserves maximum exposure to both the build-it-yourself crowd and those fascinated by the cul-de-sacs of scientific history." —Booklist

"Simply stated directions and easy-to-follow illustrations usher readers through more than 15 incendiary projects ... The author renders otherwise dense and complicated scientific explanations imminently understandable." —Kirkus Reviews

"This book packs enough punch to fill a dozen weekends with high-powered hijinks that will amaze and delight the members of your secret garage science club." —Mark Frauenfelder, editor in chief of MAKE   
Chicago Review Press, 9781569767108, 224pp.
Publication Date: June 1, 2011
About the Author
William Gurstelle is a professional engineer who has been researching and building model catapults and ballistic devices for more than 30 years. He is the author of Absinthe & Flamethrowers, The Art of the Catapult; the bestselling Backyard Ballistics; Building Bots, Whoosh, Boom, Splat; and Notes from the Technology Underground. He is a contributing editor at Make magazine and writes frequently for The Rake, Wired, and several other national magazines.
or
Not Currently Available for Direct Purchase