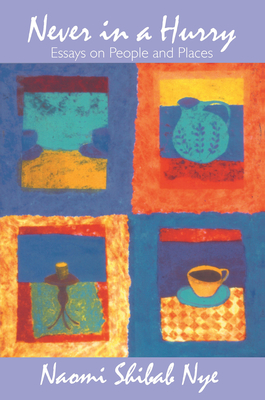 Never in a Hurry
Essays on People and Places (Texts; 18)
Paperback

* Individual store prices may vary.
Description
In "Never in a Hurry the poet Naomi Shihab Nye" resists the American tendency to "leave toward places whenn we barely have time enough to get there." Instaed she travels the world at an observant pace, talking to strangers and introducing readers to an endearing assemblage of great-great-aunts, eccentric neighbors, Filipina faith healers, dry-cleaning proprietors, hitchhikers, and other quirky characters, some of whom she met just once. As inviting and inventive as her poems, Nye's insightful essays spill forth from the collexction with the spontaneity of stories spoken across a kitchen table.
University of South Carolina Press, 9781570030826, 278pp.
Publication Date: April 1, 1996