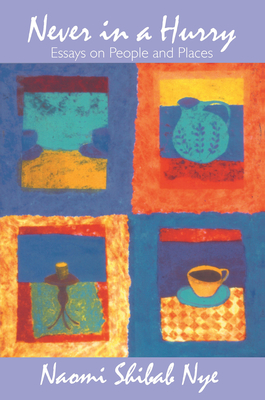 Never in a Hurry
Essays on People and Places (Texts; 18)
Paperback

* Individual store prices may vary.
Description
Potluck suppers with could-be relatives, junkets to exotic locales, and the importance of strangers in our lives
In Never in a Hurry the poet Naomi Shihab Nye resist the American inclination to leave toward places when we barely had time enough to get there. Instead she travels the world at an observant pace, talking to strangers and introducing readers to an endearing assemblage of eccentric neighbors, Filipina faith healers, dry-cleaning proprietors, and other quirky characters.
A Palestinian-American who lives in a Mexican-American neighborhood, Nye speaks for the mix of people and places that can be called the American Experience. From St. Louis, the symbolic Gateway to the West, she embarks on a westward migration to examine America, past and present, and to glimpse into the lives of its latest outsiders--illegal immigrants from Mexico and troubled inner-city children.
In other essays Nye ventures beyond North America's bounds, telling of a year in her childhood spent in Palestine and of an adulthood filled with cross-cultural quests. Whether recounting the purchase of a car on the island of Oahu or a camel-back ride through India's Thar Desert, Nye writes in wry, refreshing tones about themes that transcend borders and about the journey that remains the greatest of all--the journey from outside to in as the world enters each one of us, as we learn to see.
University of South Carolina Press, 9781570030826, 280pp.
Publication Date: May 1, 1996
About the Author
Naomi Shihab Nye was born in 1952 and lives in San Antonio, Texas. Her poetry volumes include Red Suitcase and Words Under the Words: Selected Poems. Editor of This Same Sky, and award-winning anthology of international poetry, Nye is featured on two PBS poetry specials, The Language of Life with Bill Moyers and The United States of Poetry.