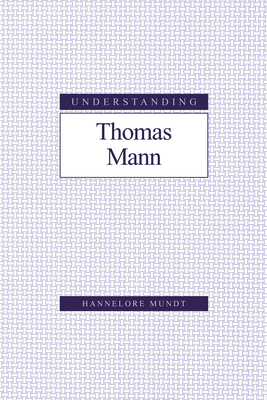 Understanding Thomas Mann (Understanding Modern European and Latin American Literature) (Hardcover)
University of South Carolina Press, 9781570035371, 253pp.
Publication Date: April 15, 2004
* Individual store prices may vary.
Description
Understanding Thomas Mann offers a comprehensive guide to the novels, short stories, novellas, and nonfiction of one of the most renowned and prolific German writers. In addition to analyzing Mann's most famous works, including Buddenbrooks, Death in Venice, The Magic Mountain, and Doctor Faustus, Hannelore Mundt introduces readers to lesser-known works, among them Joseph and His Brothers, Lotte in Weimar, and The Black Swan. In close readings, Mundt illustrates how Mann's masterly prose captures both his time and the complexities of human existence with a unique blend of humor, compassion, irony, and ambiguity. Mundt takes readers chronologically from Mann's literary beginnings in 1894 to his last novel, Confessions of Felix Krull, Confidence Man. She considers the influence of Arthur Schopenhauer and Friedrich Nietzsche on the emergence of Mann's literary voice, his conflicted feelings about his bourgeois background, and his life as Germany's representative writer in the Weimar Republic and in exile. discusses his recurring thematic concerns - the individual's rebellion against oppressive bourgeois conventions and antihumanistic principles, the need for an unremitting questioning of authority and ostensibly absolute truths, and the antagonism between individualistic freedom and social responsibility. In light of the recent publication of Mann's diaries, disclosing his homosexual inclinations, Mundt also identifies the textual strategies he adopted for revealing and simultaneously masking his secret sexuality. Mann emerges from Mundt's analysis as a writer who plays with opposing perspectives in his fictional renderings of both the alienated individual and Germany's cultural and political history. Mundt suggests that the openness of his works, paired with his deep insights into human existence, explains his stature as a literary figure whose importance extends worldwide.
or
Not Currently Available for Direct Purchase