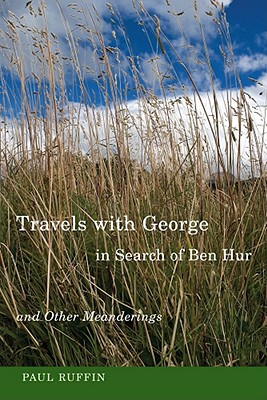 Travels with George in Search of Ben Hur and Other Meanderings (Hardcover)
University of South Carolina Press, 9781570039867, 172pp.
Publication Date: May 6, 2011
* Individual store prices may vary.
Description
This fourth collection of essays by Paul Ruffin highlights his idiosyncratic wit and practiced storytelling skills in memorable autobiographic pieces ranging from the comic to the confessional.
The first section, "Things Literary, More or Less," includes the title essay, in which Ruffin takes the reader on a rollicking tour with iconic Southern writer George Garrett, which ends with the two men locating the ghostly remains of an obscure Texas hamlet called Ben Hur and talking with an eccentric representative of the town's handful of inhabitants. In other essays Ruffin workshops a cowboy poem with a couple of deputy sheriffs, reveals aspects of Edgar Allan Poe's life never before published, reviews some unusual books, and shares the story of a boy who speaks only in hymns. Ruffin concludes the section with the tale of an invigorating flight to San Juan in an old DC-6.
In the next section, "On Likker and Guns," Ruffin summarizes his drinking career, transcribes the conversation between two rats that destroy his university office, and tells the tale of a bowhunter who asked him for his deer bladder. He also introduces the reader to a sharpshooter who, while trying to demonstrate his prowess with an old rifle, kills an old man's tractor. Finally Ruffin takes the reader on a trip to a Texas gun show to meet the menacing Boram, the clueless Billy Wayne, and a vigilant wife dedicated to preserving the family budget.
The book ends with an excerpt from Ruffin's unpublished memoir, "Growing Up in Mississippi Poor and White but Not Quite Trash." Every tale is vibrantly alive with the sincere voice, crisp details, bold images, and distinctive dialogue that readers have come to relish in Ruffin's writings.
or
Not Currently Available for Direct Purchase