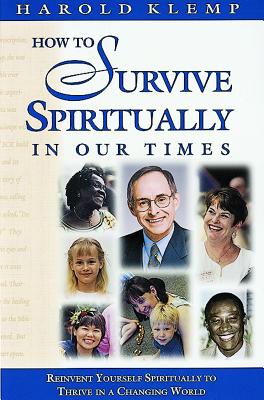 How to Survive Spirituality in Our Times
Reinvent Yourself Spiritually to Thrive in a Changing World (Mahanta Transcripts #16)
Paperback

* Individual store prices may vary.
Description
Harold Klemp's stories are your stories. They're about people like you. They're about extraordinary experiences. Heartwarming experiences. Small miracles and gifts from God that happen in your everyday life. The spiritual good news of today.


Take the story of Rebecca, who is told by doctors that she'll never have children. She really wants children of her own. She opens herself to Divine Spirit and asks, "If there's any way for me to have my own children, please let it be so." She practices techniques included in this book and, working with Divine Spirit, reinvents herself. The direction and insight she receives, one day bring her a miracle. A child of her own.


A master storyteller, Harold Klemp weaves stories, tools, and techniques into the golden fabric of his books to help you see deeper truths within and apply them to your life now.


He speaks directly to Soul--that divine, eternal spark--the real you. The survivor.


Spiritual survival is only the starting point in your spiritual life. Harold Klemp shows you how to thrive!
Praise For How to Survive Spirituality in Our Times: Reinvent Yourself Spiritually to Thrive in a Changing World (Mahanta Transcripts #16)…
With clarity and love Harold Klemp shines a bright light on the path to awareness and spiritual growth.--Arielle Ford, Author, Hot Chocolate for the Mystical Lover
Eckankar, 9781570431678, 348pp.
Publication Date: September 1, 2001
About the Author
Author Harold Klemp is known as a pioneer of today's focus on everyday spirituality. He was raised on a Wisconsin farm and attended divinity school. He also served in the US Air Force.


In 1981, after lifetimes of training, he became the spiritual leader of Eckankar, the Path of Spiritual Freedom. His full title is Sri Harold Klemp, the Mahanta, the Living ECK Master. His mission is to help people find their way back to God in this life.


Each year, Harold Klemp speaks to thousands of seekers at Eckankar seminars. Author of more than one hundred books, he continues to write, including many articles and spiritual-study discourses. His books have been translated into more than 18 languages.


His inspiring and practical approach to spirituality helps many thousands of people worldwide find greater freedom, wisdom, and love in their lives. (www.Eckankar.org)
or
Not Currently Available for Direct Purchase