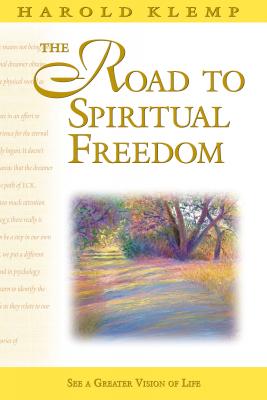 The Road to Spiritual Freedom
Paperback

* Individual store prices may vary.
Description
Do you relish life?

Is it an adventure of discovery, joy, and satisfaction? It can be!

Harold Klemp confronts a world of limitations and offers startling possibilities. His wisdom and heart-opening stories of everyday people having extraordinary experiences tell of a secret truth at work in your life--there is divine purpose and meaning to every experience you have.

Every single moment of your life is the handiwork of a higher cause. And you can know what it is. Hint: God's love is the key, and spiritual freedom is the goal.

If you want true freedom from the limitations upon your heart, mind, and spirit, here's a chance to earn it. Be open to the inner voice of Soul, your true self, as you explore the revelations given within these pages. Pay attention to your dreams. Invite the wonder of the great unknown into your being.

Are you ready to accept the freedom of a new state of consciousness? Then nothing can hold you back. Spiritual freedom can be yours!

Harold Klemp speaks to spiritual seekers and members of the Eckankar religion twice a year at international seminars. As the spiritual leader of the teaching, he is known as the Mahanta, the Living ECK Master. These transcripts reflect his approach to giving insights, wisdom, and guidance through the stories of people from around the world. Spanning a variety of topics, this book is a compilation of his talks from 2000 to 2006.
Praise For The Road to Spiritual Freedom…
"In this prescription for everyday spirituality, Harold Klemp distills a lifetime of experience for his readers. Using self-help techniques, sacred teachings, and common sense, Klemp shows how such virtues as humility and forgiveness can manifest healing, love, and freedom. This is a book that is as practical as it is profound." —Stanley Krippner, PhD, Coauthor, "Personal Mythology" and "Haunted by Combat"; former president, Society for Humanistic Psychology and the International Association for the Study of Dreams
"Awesome book, an adventure incorporating discovery, joy, love, satisfaction and happiness all rolled into one. How extraordinary people with extraordinary lives experience the sound of their Souls. It's about listening to your inner voice and acting on it. HIGHLY RECOMMENDED. A MUST READ BOOK." —Pam Thomas, NetGalley Reviewer



"The latest volume guides readers through the faith's teachings and the ways they can enrich spiritual connections with themselves and the world. . . .The powerful optimism of these teachings should resonate with all readers, even those unacquainted with ECK. . . . An intriguing book explores practices and perspectives using storytelling as the main device." —"Kirkus Reviews"



"Thoroughly 'reader friendly' in tone, commentary, organization and presentation. 'The Road to Spiritual Freedom' is especially recommended for the personal reading lists of anyone with an interest in personal spirituality and emotional growth." —Helen Dumont, Reviewer, "MBRBookwatch"; February 2017



"An inspiring book of profound wisdom, sharp insights, and practical guidance that will steer you well on the spiritual path. 'The Road to Spiritual Freedom' is an exceptional resource that you'll want to consult time and time again, gaining new perspectives with each reading." —Rosemary Ellen Guiley, author, "Dreamwork for Visionary Living"
Eckankar, 9781570433412
Publication Date: January 1, 2017
About the Author
Award-winning author, teacher, and spiritual guide Sri Harold Klemp helps seekers reach their full potential. He is the Mahanta, the Living ECK Master and spiritual leader of Eckankar, the Path of Spiritual Freedom. He is the latest in a long line of spiritual Adepts who have served throughout history in every culture of the world.

Sri Harold teaches creative spiritual practices that enable anyone to achieve life mastery and gain inner peace and contentment. His messages are relevant to today's spiritual needs and resonate with every generation. Kirkus Reviews comments, "The powerful optimism of these teachings should resonate with all readers, even those unaquainted with ECK."

Sri Harold's body of work includes more than one hundred books, which have been translated into eighteen languages and won multiple awards. The miraculous, true-life stories he shares lift the veil between heaven and earth.

In his groundbreaking memoir, Autobiography of a Modern Prophet, he reveals secrets to spiritual success gleaned from his personal journey into the heart of God. Find your own path to true happiness, wisdom, and love in Sri Harold Klemp's inspired writings.