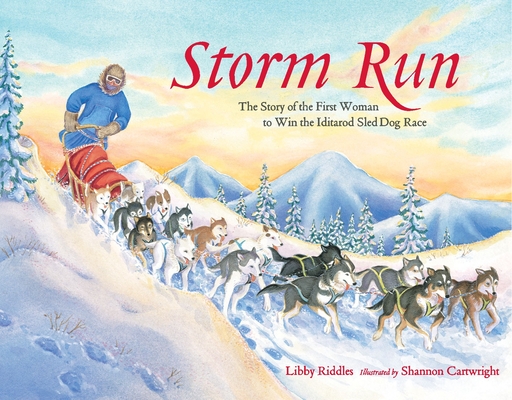 Storm Run: The Story of the First Woman to Win the Iditarod Sled Dog Race (Paperback)
The Story of the First Woman to Win the Iditarod Sled Dog Race
Sasquatch Books, 9781570612930, 47pp.
Publication Date: January 15, 2002
Description
In 1985, Libby Riddles made history by becoming the first woman to win the 1,100-mile Iditarod Sled Dog Race. This brand-new edition of Riddles's timeless adventure story is complete with updated narrative details, sidebars on all aspects of the race, photographs, and all-new illustrations by beloved illustrator Shannon Cartwright. An inspiration to children and adults everywhere, this is a compelling first-hand account of the arctic storms, freezing temperatures, loyal sled dogs, and utter determination that defined Riddles's Iditarod victory.
About the Author
Libby Riddles moved to Alaska at age 16. She homesteaded in a remote area of western Alaska, and lived for six years in an Inupiat village in Northern Alaska. Her love of animals evolved into a recreational interest in sled dogs, and later, a passion for sled dog racing and a monumental victory in the Iditarod, the "Last Great Race On Earth." On March 20th, 1985, Libby Riddles made history. She became the first woman to win the grueling 1,049-mile Iditarod Sled Dog Race, after a daring move across Norton Sound in a deadly blizzard.​ Libby currently lives in Homer, Alaska, and her Blazing Kennels has 28 sled dogs. After three summers in Juneau developing the number one rated "heli-mushing" tour, she is now one of the main Alaskan presenters for Princess Cruises, and enjoys being one of the leading representatives of her sport to the thousands of visitors every summer who come to her on-board shows Shannon Cartwright arrived in Alaska in 1972 after graduating from the University of Michigan School of Architecture and Design. She was drawn north by the stories she heard as a child from her grandmother, Esther Schaubel, a famous public-health nurse who spent 15 years in the Alaska bush during the '40s and '50s. She has spent most of her Alaska years living in the bush, away from the road system, and has never owned a TV or a computer and communicates by satellite phone and US mail. Cartwright has traveled all over the state working on a set-net site in Bristol Bay, driving horse-pack trips, guiding in the Alaska Range and Brooks Range, researching book projects, and traveling between her cabins by train, skis, snowmobiles, and horses. She expresses her love of Alaska through the 28 children's books she has illustrated, seven of which she has also written.
Advertisement