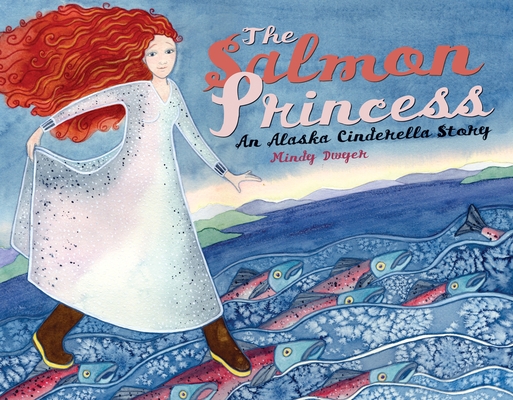 The Salmon Princess (Paperback)
An Alaska Cinderella Story (PAWS IV)
Little Bigfoot, 9781570613555, 32pp.
Publication Date: March 9, 2004
* Individual store prices may vary.
Description
In this adaptation of the well-loved fairy tale, the father still has his head in the clouds and the stepmother is as mean as ever. But this story is set in the Last Frontier, and its details and imagery reflect Alaska's landscape and sensibility: the fairy godmother becomes an eagle spirit, the glass slipper a fisherwoman's boot. Evocative writing and colorful artwork distinguish this playful retelling of the classic. Here children learn about cultures and ways of life but happy endings are still the rule.
About the Author
Mindy Dwyer is also the author and illustrator of Quilt of Dreams. Her artwork can be seen in numerous publications and in galleries across the United States. She lived in Alaska for many years. She now lives in Saugerties, NY.
Praise For The Salmon Princess: An Alaska Cinderella Story (PAWS IV)…
"The Salmon Princess: An Alaska Cinderella Story," is another fine addition to the growing list of literal wonders from Mindy Dwyer. Dwyer, who has moved to Port Townsend, Wash., has two talents: She can write a form of prose/poetry that sings directly to the soul, and she can create art that delights... Detailed studies in sophistication and composition, each illustration advances the story while it makes a home in the viewer's eye. Her work has a dignity and beauty that is rare in any form of art.
The Statesman Journal 

Mindy Dwyer recasts Cinderella into an Alaska fish camp in The Salmon Princess. We all know how it ends, but combining rubber boots with a silver gown for the Silver Salmon Festival makes for a sweet tale.
Peninsula Clarion

This book has a great feeling about it, of wide open spaces and possibilities. The illustrations are just fanastic: Cinder's dress really is very salmonesque and the details of the Alaskan landscape, of giant trees and heavy fog are like a quick visit up north. The image of this gal in her silvery dress, firing up the skiff is a good one! And the illustration on page 15, of the "phosphorescent wake glowing like the train of a great wedding gown" glows with colors that break my heart. All illustrations are watercolors.
365 Cinderellas

The Salmon Princess, Dwyer's fourth book, marries Alaskan natural and cultural history to the Cinderella myth. It is rich with details of life in southeast Alaska, the fishing industry, salmon ecology and native traditions, and depicted in sweet and detailed watercolors.
Bellingham Weekly