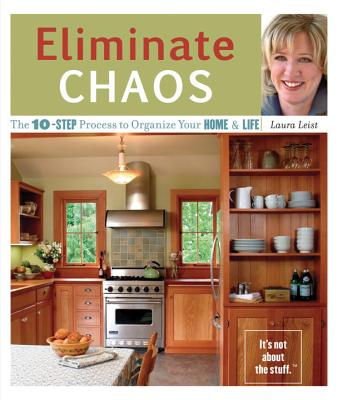 Eliminate Chaos: The 10-Step Process to Organize Your Home & Life (Paperback)
The 10-Step Process to Organize Your Home & Life
Sasquatch Books, 9781570614675, 211pp.
Publication Date: March 14, 2006
* Individual store prices may vary.
or
Not Currently Available for Direct Purchase
Description
Let go of clutter and organize every room of your house, including the kitchen and pantry, closet, garage, home office, and childrens' rooms. The author's ten-step system is presented in an easy-to-use, workbook-style layout with full-color photos demonstrating the various stages of the organizing process, illustrating not just "before and after," but the realistic, messy, all-important steps in between. Leist's method is based on the underlying principle that "it's not about the stuff." She touches on the psychological reasons behind clutter and not letting go -- such as procrastination, denial, thrift, and family history -- but her underlying premise is that being organized is an ongoing process, not a one-day event. By learning to sort, prioritize, and make fast, rational decisions about their household goods, readers become more efficient and functional not just at home, but in other areas of life as well.
About the Author
Laura Leist serves on the board of the National Association of Professional Organizers. Her makeovers have been featured on Northwest Afternoon, Evening Magazine, and Seattle Live. Adam L. Weintraub's photographs have appeared in many publications, inclu
Advertisement