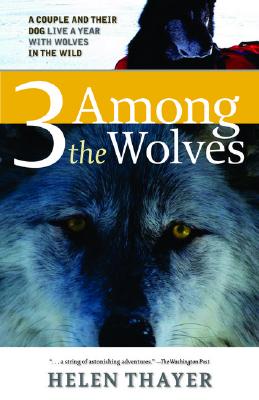 Three Among the Wolves: A Couple and Their Dog Live a Year with Wolves in the Wild (Paperback)
A Couple and Their Dog Live a Year with Wolves in the Wild
Sasquatch Books, 9781570614798, 238pp.
Publication Date: September 1, 2006
Description
Helen and Bill Thayer, accompanied by their part-wolf, mostly Husky dog, Charlie, set out to live among wild wolf packs -- first in the Canadian Yukon and then in the Arctic. When they set up camp within 100 feet of a wolf den, they were greeted with apprehension. But they establish trust over time because the wolves accept Charlie as the alpha male of the newly arrived "pack." Readers travel with the Thayers as they learn about wolf family structure, view the intricacies of the hunt, the wolves' finely honed survival skills, and playfulness.
Praise For Three Among the Wolves: A Couple and Their Dog Live a Year with Wolves in the Wild…
"Thayer is an explorer-naturalist of a breed that in the modern age is more threatened than wolves. She is not a millionaire, an academic, a government scientist or the sponsored face of a large corporation. . . . Instead, she's a self-taught, self-finan
Advertisement