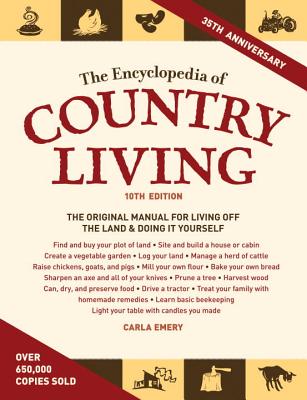 The Encyclopedia of Country Living, 10th Edition (Paperback)
Sasquatch Books, 9781570615535, 928pp.
Publication Date: July 1, 2008
* Individual store prices may vary.
Description
The bible of sustainable living, food gardening, and living green, no home is complete without this one-of-a-kind encyclopedia! For more than thirty years, people have relied on the thousands of recipes, detailed how-to instructions, and personal advice provided in this definitive classic. It is the most complete source of step-by-step information about growing, processing, cooking, and preserving homegrown foods from garden, orchard, field, or barnyard. This book is so basic, so thorough, so reliable, that it deserves a place in every home whether country, city, or in between. Carla Emery started writing The Encyclopedia of Country Living in 1969 during the back-to-the-land movement of that time. She continued to add content and refine the information over the years ad the book went from a self-published mimeographed document to a book published by Bantam and then Sasquatch. The 10th Edition reflects the most up-to-date and the most personal version of the book that became Carla Emery's life work. It is the original manual of basic country skills that have proved essential and necessary for people living in the country and the city, and everywhere in between. The practical advice in this exhaustive reference tool includes how to cultivate a garden, buy land, bake bread, raise farm animals, make sausage, can peaches, milk a goat, grow herbs, churn butter, build a chicken coop, catch a pig, cook on a wood stove, and much, much more.
About the Author
Carla Emery grew up on a sheep ranch in Montana and was educated at Columbia University. In the early 1970s she settled on a farm in northern idaho, where she wrote the first edition of the Encyclopedia of Country Living. Originally produced on a mimeograph machine in her living room, this book launched its author to the forefront of the back-to-the-land movement. She remained a tireless advocate of self-sufficiency and environmental stewardship until her death in 2005.
Praise For The Encyclopedia of Country Living, 10th Edition…
"If you're dreaming about moving "back to the land" someday, or if you're already there and want to live more self-sufficiently (wherever you may be) you'll want a copy of the ninth edition of The Encyclopedia of Country Living"
Organic Gardening

"For the suburbanite with just enough space for a little garden to the die-hard homesteaders and everyone in between, The Encyclopedia of Country Living makes for both fascinating reading and a truly essential reference source. You won't find a more complete source of step-by-step information about growing, processing, cooking and preserving every kind of food—from the garden, the orchard, the field or the barnyard!"
Rodale Book Club

"This book is a monument to the coevolution of a person and an idea. As folk literature. . . this book should be shelved in your collection between the Foxfire books and Alicia Bay Lau­rel's Living on Earth."
Whole Earth catalog

 "Urbanites will find the recipes and resources list. . . useful, the trivia interesting. . . and Emery's personal reflections. . . com­pelling. Even readers with no plans to raise sheep, sell home­made cheese or plant millet will find this a fascinating cultural document."
Publishers Weekly

"Packed with old wisdom as well as up-to-date websites and mail-order sources to make country living easier."
Country Almanac

"Although mainly a modern individualist's resource on how to grow and prepare food, this work is much more. As one aston­ished browser acclaimed, 'Is there anything this book doesn't tell you how to do?'"
Library Journal

"Practical advice, invaluable information, and collected wis­dom for folks and farmers in the country, city, and anywhere in between."
Territorial Seed catalog
or
Not Currently Available for Direct Purchase