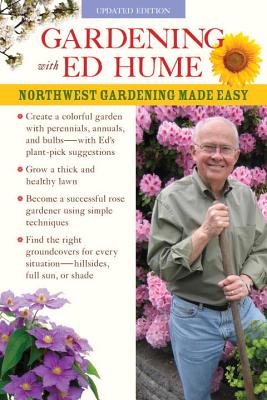 Gardening with Ed Hume: Northwest Gardening Made Easy (Paperback)
Northwest Gardening Made Easy
Sasquatch Books, 9781570615856, 432pp.
Publication Date: November 4, 2008
Description
Ed Hume is the host of the longest-running television gardening show in America. If you grew up in the Seattle area, you cannot have missed him explaining how to grow a lawn, prune an azalea, or plant a perennial border. Although he is syndicated nationally his gardening roots are here in the Pacific Northwest. Finally, he has gathered his accumulated experience and wisdom for home gardeners into a single encyclopedic manual. Ed's approach to gardening is this: keep it simple. The message he gives to readers is that anyone can have a gorgeous garden that pops in spring and summer and looks great in fall and winter, and that it doesn't need tending every waking hour. This is a book for people who respond "gesundheit" when someone says "horticulture." Ed Hume has written this book to be the basic tool for Northwest gardeners. With chapters on lawns, perennials, bulbs, fertilizers, hedges, shrubs, groundcovers—this book covers the basics in a non-technical can-do way. Ed's voice is friendly, down-home, and encouraging. Each plant chapter has an encyclopedic list of plant suggestions with Ed's comments on placement and growing. He includes tens of thematic plant lists: white flowers; early-spring bulbs; flowering groundcovers; plants to grow under evergreen trees; dramatic ornamental grasses; hedges to hide the neighbors; red flowers; fragrant flowers; winter bloomers; plants for fall color; and much, much more.
About the Author
A popular lecturer throughout the United States and Canada, Ed Hume lives in Lakewood, WA.
Praise For Gardening with Ed Hume: Northwest Gardening Made Easy…
"This is a book to give to new gardeners, transplanted gardeners or experienced gardeners...Ed Hume understands how to keep gardening simple and easy." --Marianne Binetti, Seattle Post-Intelligencer "Looking for the perfect green lawn? Need a grou
Advertisement