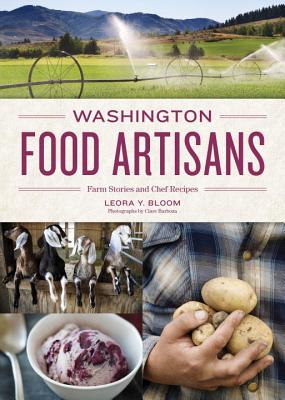 Washington Food Artisans
Farm Stories and Chef Recipes
Hardcover

* Individual store prices may vary.
Description
Two of the biggest draws of the farmers' market are the chance to buy local products and the opportunity to meet the producer--to skip the middleman and shake the hand of the farmer, the forager, the artisan. For so many of us living in the city, shopping at the supermarket, unwrapping plastic-covered sandwiches for lunch, or grabbing quick takeout, the vendors are heroic. They are passionate about their products and have chosen to do what they do on a small scale for any number of reasons, including better quality, tradition, respect for the earth, or to continue a family business. Writer Leora Bloom profiles 17 such Washington food artisans, including producers of fruit, wine, cheese, tomatoes, lavender, and honey, as well as meat, fish, and grains. She also provides recipes for each farmer's products, procured from Washington's most renowned chefs and restaurants.
Praise For Washington Food Artisans: Farm Stories and Chef Recipes…
"In an effort to highlight local producers and chefs, Seattle resident Bloom gathered stories and over 50 recipes from a diverse cast of dedicated farmers and foodies in this eye-catching volume... In addition to these charming profiles, recipes ranging from spiced albacore tuna with stone fruit chutney to goat cheesecake with pears and honey will have denizens of the Northwest and beyond drooling--most ingredients can be sourced nationwide. Supplemented with Clare Barboza's sumptuous photographs of landscapes and prepared dishes, this volume will inspire even those unable to travel to this far corner of the country to try their hand at Washingtonian fare, as well as explore their own local treasures."
Publishers Weekly 

"Bloom's farm-to-table cookbook features chef recipes organized by course, engaging profiles of Northwest food artisans, and breathtaking color photographs... This attractive gift book is filled with details on Washington producers and restaurants. VERDICT These 52 recipes for soups, salads, appetizers, mains, and desserts will appeal most to readers familiar with or located in Washington."
Library Journal
 
Amid gorgeous photos of produce and local producers, freelance writer Leora Bloom details the stories behind the locally sourced food we love to eat. You'll find recipes such as Tulio's goat Brie and tomato jam bruschetta, the Dahlia Lounge's honey-soy-cured Pacific mackerel and, to top it all off, apricot sorbet from the Parfait ice cream truck.
Seattle Magazine

A book filled with essays about some of our favorite farms, recipes from terrific chefs, and gorgeous photos from Clare Barboza? This is clearly tailor-made for our readers. Leora Bloom tells luxuriously in-depth stories of the folks behind our local food scene...
Edible Seattle

"...eloquently narrated by Leora Y. Bloom, and featuring lush photography by Clare Barboza. The book profiles chefs, farmers, artisan producers and more, bringing the reader along with her on her journey to find the beating hearts of Washington State's food culture. Stories of success, hardship, rebuilding and creating join mouthwatering recipes and eye-catching images to present a real sense of the community that makes our state one of the most abundant and versatile culinary meccas in the country. Studded with recipes like Roasted Beet Salad with Port-Lavender Vinaigrette, Sockeye Salmon with Chanterelles and Summer Peppers, and Washington Cherry Gazpacho, the length and breadth of our wonderful state is present in every bite."
Dishing with Kathy Casey

There's great pleasure in meeting Bloom's subjects... Both of these local books belong on international shelves. They deserve to be sent forth into the world as ambassadors, to explain to distant friends and relatives why our land, this inlet on the western coast of the North American continent, is such a fortunate one, endowed with natural riches and populated by folks who don't confuse abundance with moral superiority. 
Crosscut.com 
Sasquatch Books, 9781570616600, 224pp.
Publication Date: April 24, 2012
About the Author
Leora Bloom trained at Le Cordon Bleu Paris. She has worked in restaurants in Washington, DC, and San Francisco; ran her own bakery in Bellevue, Washington; and tested recipes for several cookbooks. Leora is a freelance writer for the "Seattle Times" and an avid baker who loves to shop at farmers' markets and travel. She lives in Seattle with her husband and three children. The author lives in Seattle, WA.
or
Not Currently Available for Direct Purchase