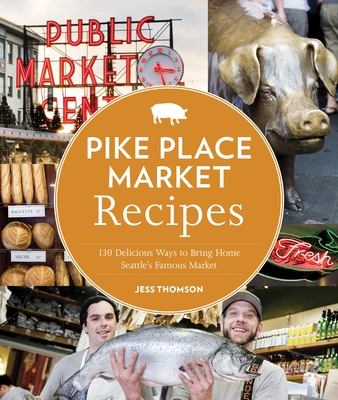 Pike Place Market Recipes
130 Delicious Ways to Bring Home Seattle's Famous Market
Paperback

* Individual store prices may vary.
Description
80 wonderful recipes and gorgeous photography that express the flavors and atmosphere of the world-renowned Pike Place Market--for local and visiting home cooks alike. 

The Pike Place Market sits in the center of downtown Seattle and at the center of the Seattle food scene. With its famous seafood and locally grown produce, it is seven acres of wonderful ingredients and inspiration for the home cook. Cookbook author Jess Thomson has prowled the Market's stalls, shops, restaurants, and purveyors to assemble a collection of recipes that celebrate the essence of Pike Place Market. Included here are Le Pichet's Salade Verte, Etta's Mini Dungeness Crab Cakes by Tom Douglas, and the Pink Door's Linguine alla Vongole. The author has also created recipes that are inspired by ingredients found at the market, such as Spanish Chickpea and Chorizo Stew (with Uli's Sausage) and a MarketSpice Tea Cake. The cookbook can also serve as a guide to the specialty shops and off-the-beaten path purveyors and cafes. With gorgeous images of prepared recipes, dazzling ingredients, and scenes of the Pike Place Market, this is the ultimate Seattle cookbook.
Praise For Pike Place Market Recipes: 130 Delicious Ways to Bring Home Seattle's Famous Market…
...a wonderful rush of a book, filled with photographs of that dazzling mundane place... Jess gathered ingredients and recipes from nearly every purveyor in the place and turned those random scribblings into something great."
Shauna Ahern, Gluten-Free Girl and the Chef

...an excellent collection of recipes and stories from Seattle's public market. I laughed out loud so many times while reading some of the really great anecdotes in the book.  I give it two thumbs up!
Monica Bhide, A Life of Spice

Whole Wheat Cinnamon Pull-Apart Bread? Bliss, and perfect with a cup of Market Spice tea (the original flavor, if you have to ask). The apple clafouti—what she calls the French Apple Custard Cake—is another bit of bliss, combining the best of the produce smells with the best of the buttery bakeries. For savory things, the Spicy Marinated Feta is lovely, redolent of all the market's garlicky, spicy, pickled delights. ...reading and cooking with Jess's book is as close as I've ever come to duplicating a physical walk through the market without actually being there.
Edible Seattle
 
Seattle writer Jess Thomson navigates the wild wonders of our world-famous Market via this go-to guide, which includes recipes for fresh offerings at market stalls as well as specialties by Seattle restaurant royalty. Learn the secret to Le Pichet's salade verte, the pulled-pork sandwich at Matt's in the Market and Fran's Gold Bar brownies from Fran's Chocolates.
Seattle Magazine

The cookbook has a good balance of simple recipes (including some particularly drool-worthy sopaipillas, fresh tortillas fried and topped with chipotle, cinnamon, and cumin) and more complex, fancy dinner party recipes (like a clam, mussel, and white bean paella). In the book, the vendors' hints are successfully combined with Thomson's food wisdom... With Pike Place Recipes, Thomson invites readers into the market as more than overwhelmed tourists or jaded locals—instead we arrive as excited home chefs and members of an ever-growing food community.
Seattle Metropolitan


Pike Place Market Recipes is more than a cookbook, flipping through its pages is like taking a tour through the variety and delight of Seattle's famous public market... The result is a book that captures the importance of place to a market like Pike Place. The place where things come from, but also the place that is the market itself. A historic landmark, a public gathering place, an anchor for a city.
About.com Local Foods


The book is well worth a look even if you're not from Seattle...it's full of fantastic recipes, and wonderful stories about the famed and storied market.
CakeSpy 

I couldn't imagine a more perfect gift for a newcomer to the Seattle area than this book. It's part guidebook, part cookbook, part tale of food-lover in paradise.
Gastrognome

Sasquatch Books, 9781570617423, 224pp.
Publication Date: May 8, 2012
About the Author
Jess Thomson is a Seattle-based freelance writer and cookbook author. Her work appears in publications such as Sunset, Cooking Light, Food & Wine, Edible Seattle, and Seattle Metropolitan magazines. She is a contributor at Leite's Culinaria, where her work was chosen for inclusion in Best Food Writing 2008 and 2010. She was also a finalist for a Bert Greene Award for Food Journalism in 2009. Jess, a graduate of Middlebury College and The Cambridge School of Culinary Arts, is the author of the food blog Hogwash, where she pairs food and life. She is also author of Top Pot Hand-Forged Doughnuts. Find out more at jessthomson.wordpress.com. The author lives in Seattle, WA.
or
Not Currently Available for Direct Purchase