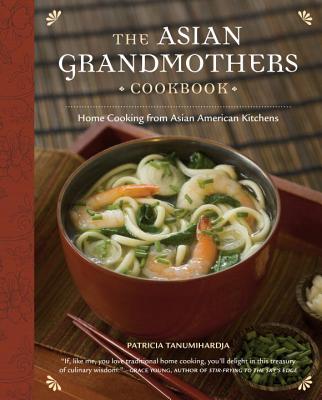 The Asian Grandmothers Cookbook (Paperback)
Home Cooking from Asian American Kitchens
Sasquatch Books, 9781570617522, 368pp.
Publication Date: August 21, 2012
Other Editions of This Title:
Hardcover (8/25/2009)
* Individual store prices may vary.
Description
Asian grandmothers--whether of Chinese, Japanese, Indonesian, Vietnamese, or Indian descent--are the keepers of the cultural, and culinary, flame. Their mastery of delicious home-cooked dishes and comfort food makes them the ideal source for this cookbook. Author Pat Tanumihardja has assembled 130 tantalizing dishes from real Chinese fried rice to the classic Filipino Chicken Adobo to the ultimate Japanese comfort dish Oyako donburi. This is hearty food, brightly flavored, equally good to look at and eat. Flavors range from soy and ginger to hot chiles, fragrant curries, and tart vinegars. The author has translated all of the recipes to work in modern home kitchens. Many of them have been handed down from mother to daughter for generations without written recipes, and some appear in tested and written form for the first time. An exhaustive Asian Pantry glossary explains the ingredients, from the many kinds of rice and curries to unfamiliar but flavorful vegetables.
About the Author
Patricia Tanumihardja is a food writer who contributes articles to Saveur, Sunset, Seattle, and Seattle Metropolitan magazines. She grew up in Singapore, and has degrees from the University of Washington and Boston University. She is a member of IACP and the Asssocation of Asian American Journalists. She lives in Arlington, VA, and Seattle, WA.
Praise For The Asian Grandmothers Cookbook: Home Cooking from Asian American Kitchens…
"If I could give this book a big hug, I would. It's not just that the recipes sound so appealing and doable in my own kitchen. It's the words and stories of all these women (and the occasional grandpa) that make the recipes come alive. This feels different than coming across a new recipe on a blog. It really feels like there's an intimacy and a connection to past generations as you flip through the pages... Really, who among us hasn't secretly wished for an Asian grandmother at some point? I know I have, and it's usually been while staring in confusion at the burned contents of a hot wok or while wrestling with uncooperative homemade soba noodles. This book by Pat Tanumihardja is like discovering that I have a long lost relative who I can call on in these moments of culinary distress."
The Kitchn

"I've been looking forward to Pat Tanumihardja's book The Asian Grandmothers Cookbook for a year...When I finally got a copy in my kitchen, I was thrilled: Not only did Pat do a stupendous job collecting stories and recipes, Lara Ferroni worked her photography magic for the ingredient glossary and the recipes. It's compelling, kind-hearted and gorgeous, just as I expected."
Edible Seattle

"If you aren't blessed with an Asian grandmother, this cookbook will guide you through the steps to make an authentic Asian dish without having to travel across the globe."
The Christian Science Monitor 

"Seldom does a cookbook come along that makes you not only want to spend hours in the kitchen preparing its recipes but also read its pages from cover to cover like a novel. Patricia Tanamihardja's Asian Grandmothers Cookbook caters equally to our sentiment and appetites with a thoughtfulness and deep cultural understanding presented as 130 beautiful, traditional recipes, along with heartfelt profiles of the Asian grandmothers who have created them for decades."
Delicious Living

"...with this book, Tanumihardja has cracked open the door to some of those mysterious kitchens, allowing non-Asians to finally enjoy all sorts of dishes that rarely appear in restaurants and which — at least up until now — could only be tasted when a friend's popo or lola or ba ngoai would carry something insanely aromatic to a table surrounded by family and the occasional hungry friend."
Zester Daily

"If this gorgeous cookbook fulfills the author's quest for extended family, we are all the beneficiaries! The warm-hearted profiles of ten seasoned cooks add a rich personal history to the recipes. Japanese, Chinese, Indian, Laotian, Korean, and Filipino cuisines are covered, as well as the inevitable mingling that happens through family migration around the globe. I love the recipes for their use of "real" flavoring ingredients instead of the typical bottled sauces. Prefacing the recipes are an invitation to cook intuitively, a chapter called 'The Asian Pantry,' and a clear explanation of Asian cooking techniques, setting the mood for a joyful adventure in cooking."
Edible East Bay

"...an absolutely fascinating study of cooking anthropology. Each story of an Asian grandmother living in the US is interesting from a historic perspective, how they got here, what they did when they arrived (especially if you're a history nerd like me). Then many of the recipes show how the dishes went from the original, authentic version, to the dish made as it could be in America, with the ingredients available. Whether substituting chayote for hard-to-find Bengali white pumpkin, or finding a way to use up Thanksgiving leftovers in rice porridge (jook), this book is a fascinating study in cultural evolution."
The GastroGnome

"If you missed out sitting by your grandmother's stove, or your family ethnicity doesn't happen to match the food you know you were born to eat, Patricia Tanumihardja's book goes a long way toward addressing that need...a charming book..."
The Boston Globe
or
Not Currently Available for Direct Purchase